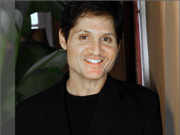 LOS ANGELES, Calif. /eNewsChannels/ -- United Global Media Group, Inc. (UGMedia) first conceptualized Beauty TV(R) in 2006 after founder, Rob Angelino, sold his brainchild, the Salon-TV Network. Today, Beauty TV ('BeautyTV') is making waves.
AUSTIN, Texas /eNewsChannels/ -- Blings, Inc. releases details for its crowd-funding project on Indiegogo for intelligent lighted shoes. Blings(TM) are the world's first illuminated shoes that will interact with an iPhone or Android device. The idea was to bring together the elements of style, functionality and technology into a coherent product that can be worn anywhere, which will stand out in a crowd.
DENVER, Colo. /eNewsChannels/ -- Men's Custom Velvet Jackets this week released a video on YouTube describing why Doyle Design Fashions got started. It covers how Andy Doyle, founder and President of Doyle Design Fashions, searched for a velvet jacket for his wedding and the frustration of that search.
SANTA MONICA, Calif. /eNewsChannels/ -- The iconic Barker Hangar was the site, Saturday Sept. 15, 2012 for an evening of Music and Fashion. Audrey Magazine presented 'Audrey's Night Out 2012' sponsored by 360 Jets, at the historic Barker Hangar, located inside the Santa Monica airport.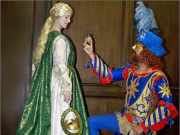 VENTURA, Calif. /eNewsChannels/ -- On October 7, Carnevale Ventura will host a day in Renaissance Italy with three fashion shows and a marketplace at the Crowne Plaza in downtown Ventura. Talented beauties from across California have signed on to model selections from forty stunning costumes of traditional Renaissance Italy and exotic Venetian carnevale.
LOS ANGELES, Calif. /eNewsChannels/ -- Audrey Magazine presents 'Audrey's Night Out 2012,' the 5th annual Fashion Show and Music Showcase at the historic Barker Hangar, located inside the Santa Monica airport. Audrey Magazine continues its long tradition of bringing together a diverse community and industry from Music, Fashion and Film. Barker Hangar has hosted numerous Award and Televised Events. This showcase includes musical performances, hosted bar, and celebrity guests on the red carpet inside the iconic transformed Barker Hangar.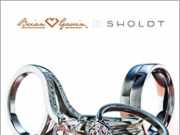 HOUSTON, Texas /eNewsChannels/ -- As a native of South Africa, one of the premier diamond capitals of the world, Brian Gavin has extensive experience in the diamond jewelry industry. In an effort to expand his selection of fine diamond engagement rings, wedding bands and men's bands, Brian Gavin has partnered with Sholdt, a jewelry design house based in Seattle, Wash.
NEW YORK, N.Y. /eNewsChannels/ -- James Allen Jewelers has announced a new flexible financing program to provide customers with even more payment options to purchase the diamond engagement ring of their dreams. James Allen customers can now apply for 6-month interest-free financing or 24-month financing, quickly and without hassle, all from the convenience of home.
MIAMI, Fla. /eNewsChannels/ -- Name that shoe! Have you visited an athletic shoe store or department lately? 'I recently walked into a retail outlet for athletic footwear and was overwhelmed by the number of shoes that were on display, too many to count,' says Emory Williams Jr., one of the founders of True Fan Sports, Inc., a Miami-based name development firm.
HOUSTON, Texas /eNewsChannels/ -- Whiteflash Inc., internationally acclaimed retailer of ideal diamonds and engagement rings based in Houston, Texas, announced today the opening of a new retail showroom in nearby Sugar Land. Scheduled to open in August 2012 the showroom located in Sugar Land Town Square will provide a more traditional retail experience to a rapidly growing number of local Whiteflash customers.