Home
Tags
Fine Art and Artists
Tag: Fine Art and Artists
eNewsChannels NEWS: -- 2020 Eyes Colorado and the Colorado Optometric Association (COA) announce the winners of the Second Annual Youth Art Contest. Students grades 1-12 were invited to submit 2D artwork while reflecting on the value of their eyesight through the theme, "My Future Vision."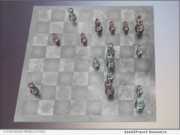 eNewsChannels NEWS: -- A Magnus Carlsen chess brilliancy that wrapped up his successful 2016 World Chess Championship match defense has been minted by Citrusw00d Productions on the OpenSea non-fungible token (NFT) marketplace.
eNewsChannels NEWS: -- The 3rd Annual Art Fur Paws Online Auction to benefit the Sacramento SPCA will be live at Witherell's from November 18 to December 2, 2021. Now in its third year, this two-week auction will feature artwork by many of the region's finest artists, as well as antiques, collectibles, and jewelry, all donated by Sacramento SPCA supporters.
eNewsChannels NEWS: -- Art collectors and chess lovers will soon have a chance to own high-quality depictions of historically important chess battles in the form of non-fungible tokens (NFTs) issued through Citrusw00d Productions. Citrusw00d has minted an initial pair of multimedia chess films on the OpenSea NFT marketplace that will list for sale on Saturday, Nov. 6, 2021.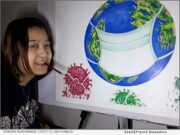 eNewsChannels NEWS: -- Robaba Mohammadi, Afghanistan's most famous artist, who paints with her mouth due to a birth defect which denies her the use of her limbs, is reacting to the Taliban's recent takeover of her homeland by building a movement to honor Heroes everywhere, and seeks assistance from those who share her goals with the Robaba Art and Cultural Center.
eNewsChannels NEWS: -- The Museum of Sex, NYC is proud to announce that as of September 1, 2021, Zoya Cherkassky's drawing "Untitled" from her "Women Who Work" series and Louis Soubrier's Siège D'Amour Love Chair will be on view in the second floor exhibition "Artifact [xxx]: Selections from Secret Collections." The Museum recently acquired the chair from M S Rau LLC, New Orleans and the drawing from Fort Gansevoort Gallery, NYC for the permanent collection.
eNewsChannels NEWS: -- What do you get when you mix multidisciplined, modern artists from around the world with a cutting-edge blend of technology and art? You get Modern Art Cartel. Modern Art Cartel is at the forefront of combining art with technology and has developed the world's first AI digital artist, MysterioAI, that creates engaging NFTs (non-fungible token) or collectible digital assets.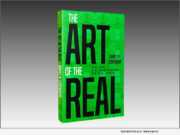 eNewsChannels NEWS: -- Los Angeles based publishing company Launch Pad Publishing is celebrating the release of "The Art of the Real: Real Life, Real Relationships and Real Estate" (ISBN: 978-1951407629) - the debut memoir from Daniel Lebensohn.
eNewsChannels NEWS: -- When master visual artist Bernard Stanley Hoyes was first appointed to create an outdoor stainless-steel sculpture for the Kingston Restoration Walking Museum Project in Jamaica, it was before Covid. The project, sponsored by the Kingston Restoration Company and the Duke Street Refurbishing Project and funded by the Tourism Enhancement Fund was a heartfelt assignment for Hoyes, a native of Jamaica and longtime resident of California.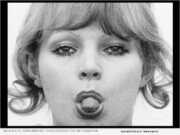 eNewsChannels NEWS: -- The Museum of Sex (MoSex) proudly announces details about its summer exhibition, "Erotic Content & the Mainstream 1960 till Today." This exhibition, a presentation of media examining how erotic content has permeated mainstream culture since the 1960s, will be on view at the Museum of Sex (233 Fifth Avenue) starting June 4, 2021.