Home
Tags
Florida RV Rentals
Tag: Florida RV Rentals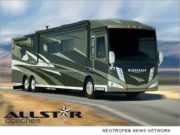 FORT LAUDERDALE, Fla. /eNewsChannels/ -- NEWS: In the 1950s, TV stars Lucille Ball and Desi Arnaz gave into the romantic notion of cruising America's highways and byways in "The Long, Long Trailer." If they had to do it all over again today, they would likely have been a lot better off in a luxury RV rental, Rob Tischler, CEO of Allstar Coaches, says.
FORT LAUDERDALE, Fla. /eNewsChannels/ -- Traveling in a luxury RV rental just got even better. Allstar Coaches is paving the way and setting new standards in the luxury motorhome rental market. RV rentals continue to grow in popularity. The Recreational Vehicle Industry Association (RVIA) attributes this growth to flexibility and convenience, comfort, family appeal, affordability, lure of the outdoors, versatility and availability of rental RVs.
FORT LAUDERDALE, Fla. -- Florida RV rentals are approaching the highest levels since 2006, according to Florida based RV rental dealer Allstar Coaches. 'Compared to the past few years, RV rentals across the board are way up and at the highest levels we've seen in quite some time,' said CEO Rob Tischler. Allstar Coaches is also reporting substantial increases in reservations for their California, New Jersey and Pennsylvania RV rentals.
FORT LAUDERDALE, Fla. -- Allstar Coaches, Florida's leading RV rental dealer announced today that it is reducing rates for Florida RV rentals during the...