Home
Tags
Food and Beverages
Tag: Food and Beverages
CHICAGO, Ill. /eNewsChannels/ -- NEWS: Earth Mama Vodka LLC today announced that Earth Mama(TM) Top Secret Vodka is coming to stores near everybody. Earth Mama Top Secret Vodka, which is 'A Marijuana Inspired Vodka' is the most radical, incredible, life altering super spirit brand to ever appear. Earth Mama Top Secret is a true super-premium vodka that has the real taste and smell of - you guessed it - pot! (Product contains no marijuana.)
BURBANK, Calif. /eNewsChannels/ -- NEWS: Foodies on alert! After experiencing popularity and success through their online store of gourmet rubs, seasonings, spices and dips, Van Dorn Gourmets has recently announced the launch of their first brick and mortar store in Burbank, Calif. Featuring an expanded line and customer-first service the store has been met with quick enthusiasm and positive feedback from area food lovers.
TUCSON, Ariz. /eNewsChannels/ -- NEWS: Kief-Joshua Vineyards asks: With Arizona's temperatures rocking a sweltering 100 plus degrees in the valleys, why not visit the state's Southern Wine Growing Region and jam out to a cool 85 degrees? Kief-Joshua Vineyards is once again hosting a summer concert series from Memorial Day through Labor Day. Musicians will be singing on the patio every Saturday from 1 to 4 p.m.
TEMPE, Ariz. /eNewsChannels/ -- NEWS: Arizona's DeCio Pasta, the leader in production of high quality handmade naturally flavored pasta, has launched an aggressive strategy to grow its brand on an international basis. DeCio has just completed expansion of its state of the art Tempe manufacturing facility increasing production capabilities over 300 percent to accommodate escalating demand for its innovative products.
HARDIN, Ky. /eNewsChannels/ -- NEWS: Newcomer spirits maker Silver Trail Distillery, of Hardin, Kentucky, had repeated its 2012 Gold Medal for its classic LBL '1950's Style' Moonshine in 100 proof at the World Spirits Competition 'Spirits International Prestige' (SIP Awards). Besides the 2013 Gold for the 100 proof, the company won Gold in the flavored whiskey category with its apple pie flavored Moonshine - LBL Apple Sin.
LAGUNA BEACH, Calif. /eNewsChannels/ -- NEWS: Alegria Farm announced today it has partnered with Orange County Produce, LLC, to offer a locally grown, certified organic, freshly harvested summer vegetable box. Delivering on its promise to offer the freshest produce available, Alegria Fresh's vegetable box is delivered within 24 hours of harvest and can be customized to suit individual tastes.
HUNTINGDON VALLEY, Pa. /eNewsChannels/ -- Multi-Flow Industries today announced that it has completed the acquisition of one of the largest Independent Fountain-Dispensed Beverage Distributors in Ohio. This acquisition affords Multi-Flow Industries the distribution opportunity to directly service customers in Central Ohio, building upon their current distribution in Southern Ohio and Northern Kentucky.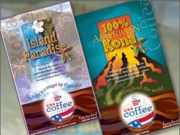 PLANTATION, Fla. /eNewsChannels/ -- NEWS Apr 1, 2013: Earth Day is April 22 and USA Coffee Company is doing its part to save the planet. Florida-based USA Coffee Company is proud of its efforts to produce conventional certified Hawaiian coffee that is environmentally friendly.
SONOITA, Ariz. /eNewsChannels/ -- NEWS Apr 1, 2013: The Wilhelm Family Vineyards will be attending multiple special events during the month of April 2013. Some events are fundraisers, and others are just fun: Temp Festival of the Arts; Chocolate and Wine Experience; Best of the Fest, Scottsdale Culinary Festival; Dan Felix Memorial's Big Break Night Golf Fundraiser; and Southeast Arizona Wine Growers Festival.
CLEVELAND, Ohio /eNewsChannels/ -- Adherents of the 'shop local' movement are becoming more discriminating. Cleveland's consumers are no exception, and they are driving demand for their local retailers to carry Vivesan(TM) and Vivebloom(TM) cleaning products. Waterstone Ventures LLP, the makers of the 100 percent carcinogen-free products, announced today that their cleaners will be sold in over 20 Ohio grocery stores.