eNewsChannels NEWS: (LAGUNA BEACH, Calif.) -- The Laguna Art-A-Fair announces a Call for Artists Jury Day with an opportunity to join one of California's premier summer fine art festivals. Artists and artisans may enter three pieces of their original artwork along with a jury fee from 8 - 11 a.m. at the Boys and Girls Club. For over 50 years the Laguna Art-A-Fair has enabled established and emerging artists to display their best creations to the tens of thousands of art-lovers that visit Laguna Beach each summer.
LAGUNA BEACH, Calif. /eNewsChannels/ -- NEWS: Laguna College of Art and Design (LCAD), the West Coast's top fine art college, today announced with Project Gado that 1,000 pages of material from The Rex and Joan Irving Brandt Papers are now available on Getty Images. California Watercolorist Rex Brandt kept sketchbooks, photographs and archival materials that can now be viewed on the Getty Images website.
LAGUNA BEACH, Calif. /eNewsChannels/ -- NEWS: Alegria Farm announced today it has partnered with Orange County Produce, LLC, to offer a locally grown, certified organic, freshly harvested summer vegetable box. Delivering on its promise to offer the freshest produce available, Alegria Fresh's vegetable box is delivered within 24 hours of harvest and can be customized to suit individual tastes.
LAGUNA BEACH, Calif. /eNewsChannels/ -- NEWS Apr 29, 2013: EnviroIngenuity today announced its offering of hydroponic vertical gardens for use at home. The beautiful stackable garden systems make it easy to grow delicious, nutritious, non-toxic food at home using limited space and reducing use of natural resources. These resource-efficient hydroponic tower systems for nutritious produce are available at Laguna Gardens Nursery.
LAGUNA BEACH, Calif. /eNewsChannels/ -- Today, EnviroIngenuity announced a partnership with Garden Supply, Inc., to represent and promote hydroponic vertical farming systems throughout the Western U.S. Garden Supply designs and manufactures stacking pots for vertical growing systems.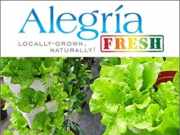 LAGUNA BEACH, Calif. /eNewsChannels/ -- Alegria Farm announces that Yolande Smith, a holistic healer, natural foods chef and nutrition expert has joined the Alegria Fresh team. Smith's focus is to show people how to rid themselves of chronic diseases such as diabetes, cancer, obesity and heart disease by better understanding how food can heal and assist those who wish to feel better.
LAGUNA BEACH, Calif. /eNewsChannels/ -- On Sunday December 9, Erik Cutter, Managing Director of Alegria Fresh, will speak at Foodprint LA as an expert panelist about innovative ideas for the future of food production within dense urban environments.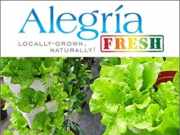 LAGUNA BEACH, Calif. /eNewsChannels/ -- With the arrival of the holiday season, Alegria Farm announces 'healthy greens' gift giving. This year, instead of giving the latest technology, entertainment or fashion goods, Alegria Fresh makes it possible to give vitality and longevity with its new one-month gift subscription. Enjoying a produce bouquet full of nutrient-rich greens and herbs will go along way to battling the calories and damage done from eating high-fat holiday treats.
LAGUNA BEACH, Calif. /eNewsChannels/ -- 'This food will keep you alive and vital, and I am living proof,' says Francis Lingel, a 90-year young veteran who has joined Alegria Farm's team to assist with farm tours. 'Fresh greens are the secret to longevity,' he adds.
LAGUNA BEACH, Calif. /eNewsChannels/ -- A Swedish delegation of Sustainable Teachers toured Alegria Farm to learn about its new high efficiency farming process and find out about the disease fighting food being grown and delivered by Alegria Fresh. Alegria's innovative new farming method employs the Verti-Gro System.