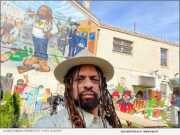 eNewsChannels NEWS: -- Legendary marijuana activist and ganjapreneur Ed "NJWeedman" Forchion is continuing his legacy of promoting 'puff and paint' cannabis creativity. The opening of his new marijuana lounge in Miami, The Joint of Miami in the Wynwood Art District, will be an extension of his legacy in support of 'pot art.'
eNewsChannels NEWS: -- While "Weed Day" 4/20/21 marks a luminous occasion for longtime marijuana activist and entrepreneur, Ed "NJWeedman" Forchion, in his home state of New Jersey, per the recent legalization of cannabis, the victory is somewhat bittersweet for him.
eNewsChannels NEWS: -- Veteran marijuana activist Ed "NJWeedman" Forchion put New Jersey under the cannabis microscope late last year when he challenged the state's newly passed marijuana legalization laws with a lawsuit directed at Governor Phil Murphy (Case 3:20-cv-16582-PGS-TJB FORCHION v. MURPHY).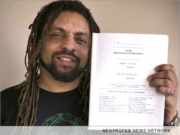 NEWS: (TRENTON, N.J.) In perhaps one of the boldest moves in the recent history of marijuana activism, long time cannabis advocate and Trentonian newspaper columnist, Ed Forchion aka NJWeedman, and his lawyers, New Jersey attorneys Allan Marain, Esq. and John Vincent Saykanic, Esq., are challenging the state of New Jersey before the United States Supreme Court regarding pertinent issues pertaining to reefer, racial discrimination and religion.
BELLINGHAM, Wash. /eNewsChannels/ -- NEWS May 6, 2013: On Wednesday, May 8, 2013 at 8:00 a.m. the 'Bellingham Cannabis 3' will join forces with nationally recognized medical marijuana activist Ed Forchion aka NJWeedman during a 'Jury Nullification Awareness Protest' to be held in front of the Whatcam County District Court at 311 Grand St. in Bellingham, Wash.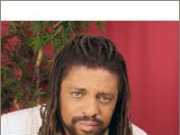 MOUNT HOLLY, N.J. /eNewsChannels/ -- As medical marijuana smokers around the globe celebrate '4/20' - an internationally recognized date for the celebration of cannabis - Ed Forchion, aka NJWeedman announced that his lawyer, John Vincent Saykanic, Esq., will be filing a historic legal brief in New Jersey's Burlington County Superior Court.