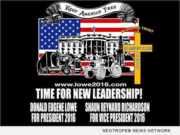 SAN ANGELO, Texas -- Donald Eugene Lowe is officially announcing that he will be the challenger at the Republican convention in the nomination bid for the White House. "It's been done before and it can be done again," Lowe says.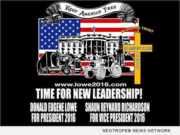 NEWS: (SAN ANGELO, Texas) He's an independent write-in, libertarian, republican conservative. He's presidential candidate, Donald Eugene Lowe from Texas, and he's announcing his run for president under the Republican Party with vice president, Shaun Reynard Richardson, by his side.
NEWS: Donald Eugene Lowe says he has been preparing for this role his whole life. And, he plans to share the details of his presidential campaign and promises in a worldwide broadcast scheduled to take place on December 23 at 1:01 p.m. EST. Interested parties can also attend the event live at the Clarion Hotel at 441 Rio Concho Drive in San Angelo, Texas.