eNewsChannels NEWS: -- Hundreds of committed changemakers see this new year as a turning point for South Africa. Empowered through community and economic development workshops at Castle Kyalami, Scientology headquarters in the country, they know that as they return to their communities and implement what they have learned, the impact will continue to swell, as those they empower reach out to others with the Scientology Tools for Life.
eNewsChannels NEWS: -- When Rev. Shadrack Lekoana of the Uniting Reformed Church in Southern Africa studied the Scientology Tools for Life courses, they rehabilitated his purpose and empowered him to accomplish it. Lekoana teamed up with the Church of Scientology to use these tools to end conflicts and competition among religions, which only distract religious leaders from their true vocation.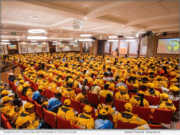 eNewsChannels NEWS: -- The winds of change are blowing through South Africa, with thousands trained as Volunteer Ministers through the Scientology Tools for Life courses. They are applying these tools and reaching out with help in greater and greater numbers. On International Volunteer Day, we honor these volunteers as a living example of positive change through volunteerism.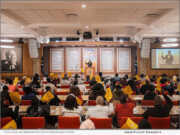 eNewsChannels NEWS: -- On Mandela Day and throughout the year, the bright yellow jacket of the Scientology Volunteer Minister has become a symbol of service and the ability to make a difference. This year, Mandela Day marked a milestone for the Scientology Volunteer Ministers of South Africa.