Home
Tags
Video News Releases
Tag: Video News Releases
eNewsChannels NEWS: -- On April 7, at the "Naturally San Diego" 2nd Annual Pitch Slam, "COYOTAS" Cassava Tortillas, took the People's Choice Award in this Shark Tank style event, showcasing Southern California's emerging and promising natural products companies and their owners in front of a board of experts and a live audience. The sole purpose of this event is for the local community to support and drive growth in their industry.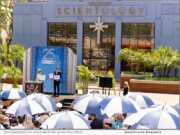 eNewsChannels NEWS: -- State and city officials joined Scientologists, friends and community leaders from across Los Angeles in East Hollywood April 9 to celebrate the 25th anniversary of the dedication of L. Ron Hubbard Way, named for the Founder of the Scientology religion. City and state officials who took part in the original dedication were among the crowd celebrating the milestone.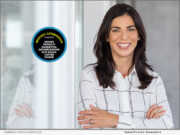 eNewsChannels NEWS: -- Scottsdale start-up, JabberYak, has developed a new team-building Office Name Plate to help employees re-connect and re-engage as they return to the office. JabberYak is set to make the transition smoother by getting co-workers to re-connect and get to know each other again.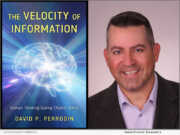 eNewsChannels NEWS: -- "The Velocity of Information - Human Thinking During Chaotic Times" (ISBN: 978-1475865455), authored by David P. Perrodin, Ph.D., and published by Rowman & Littlefield, rigorously clarifies and deepens how we think about societal human behavior and mental health during days, weeks, months, or even years of chaos. This is an invigorating scholarly work for all audiences.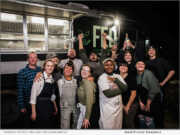 eNewsChannels NEWS: -- Danielle Keogh, co-founder, 444, LLC, launched a nationwide tour where she interviewed businesses within the functional ingredient sector. She says that Brandon Pitcher continues to carve the path for sustainable living. 444, LLC will incorporate the culinary art of functional beverage and expert mixology to manufacture functional beverage mixers.
eNewsChannels NEWS: -- Volunteers from the Scientology Churches and Missions of Spain and the nonprofit Fundacion Mejora reach out to their communities with The Way to Happiness to improve the quality of life.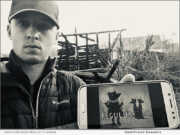 eNewsChannels NEWS: -- Aaron Ozee, celebrity author of the international bestselling children's book, "Regulus" (ISBN: 978-1387010790), and ingenious director of the "Regulus" movie, has officiated the execution of a secret philanthropic mission to send physical or digital copies of "Regulus" (known as Operation Red) to Ukraine to distract any children facing the unimaginable horrors of the 2022 Russian Invasion.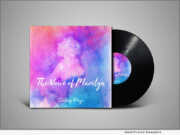 eNewsChannels NEWS: -- Singer, Songwriter and Actress Miss Cortney Page, 57, has an album called "The Voice of Marilyn" and has 19 songs on iTunes. Cortney Page is the voice of Marilyn Monroe in the 1993 cult classic "Calendar Girl," starring Jason Priestley.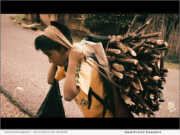 eNewsChannels NEWS: -- March 25 was International Day of Remembrance of the Victims of Slavery and the Transatlantic Slave Trade. Churches of Scientology mark this day by raising awareness of the Universal Declaration of Human Rights. And with good reason.
eNewsChannels NEWS: -- At an open house at the Church of Scientology Amsterdam earlier this month, held in commemoration of World Civil Defense Day, Volunteer Minister Jan-Maarten Kruijt introduced those attending to the Scientology Volunteer Ministers program. He shared how he and a Christian priest worked together to help Uganda communities overcome challenges and increase sustainability.