Home
Tags
Wondershare Inc.
Tag: Wondershare Inc.
eNewsChannels NEWS: -- As data support and recovery software provider 'Dr.Fone' reaches its fifth anniversary, the company announces its provision of complete support for the latest iOS update - iOS 11. Perfect for those who are less tech-savvy than others or indeed those with precious data that they can't afford to lose, Dr.Fone provides the perfect solution for a quick and pain-free iOS update.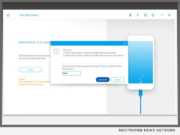 eNewsChannels NEWS: -- For many, Apple's iPhone is the number one choice for security and safety of user data, says dr.fone toolkit. It's been widely accepted for many years that Apple puts privacy high on the agenda when it comes to its operating systems and smart devices.
eNewsChannels NEWS: (HONG KONG) -- Wondershare releases TunesGo 9.4.0 with a brand new, innovative ringtone maker for iOS. Wondershare Technology, a leading global app development company in China, has released an updated version of its popular TunesGo app. TunesGo is the ultimate media and communication management tool for iOS and Android devices, allowing you to transfer and backup contacts and media such as photos, music, and videos, as well as SMS communications.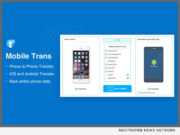 eNewsChannels NEWS: (HONG KONG) -- The Samsung Galaxy S8 and Samsung Galaxy S8+ have already become a smash hit, says Wondershare, makers of MobileTrans software which allows for transfer of data between devices with different operating systems.
eNewsChannels NEWS: (HONG KONG) -- Samsung Galaxy S8 and S8+ went on sale worldwide on April 21 and pre-orders are happening on a massive scale, says Wondershare, the maker of TunesGo, an ideal one-stop solution to manage your handset device. Samsung has managed to impress the android fans by releasing the specs of S8 in advance.
eNewsChannels NEWS: (LONDON, U.K.) -- Wondershare, a top-ranking software company, is excited to announce that its newly-updated dr.fone toolkit for iOS is the world's first data recovery solution to be fully compatible with iOS/iCloud 10.3. dr.fone is the world's first and best provider of iOS and Android data recovery software. It has all the tools needed to keep mobile phones running at 100 percent.
eNewsChannels NEWS: (LONDON, U.K.) -- Leading mobile software brand, Wondershare, has announced the much anticipated release of the latest version of its popular dr.fone toolkit for Android, which has been expanded to now support Android "screen unlock" for both Samsung and LG devices.
eNewsChannels NEWS: (LONDON, U.K.) -- With the constant battle of global tech giants raging, brands such as Apple, Google, Sony and Samsung are forever pushing the limits of consumer tech further than ever before, says tech firm Wondershare. Yet whilst stretching the technological horizon is the ultimate aim of every self-respecting brand, a small Finnish start-up has rocked the mobile industry by announcing the relaunch of the iconic Nokia 3310.
eNewsChannels NEWS: (NEW YORK, N.Y.) -- Wondershare Technology is a key member of the National Planning Software Enterprises of China and a global leader in application software development. They have recently announced the Wondershare Data Recovery software which specializes in Doc, Photo, Video, Music, and Archive recovery.