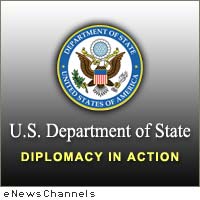 WASHINGTON, D.C. /eNewsChannels/ — From September 6 through September 28, culinary experts from 25 different countries will visit the United States as participants in the International Visitor Leadership Program (IVLP). The participants are respected members of the culinary, education, and journalism communities within their respective countries and most have worked in the culinary field for decades.
Participants are from Bosnia-Herzegovina, Brazil, Burma, Cambodia, Canada, Colombia, Cote d'Ivoire, Czech Republic, France, Georgia, Kyrgyz Republic, Lebanon, Libya, Madagascar, Namibia, Palestinian Territories, People's Republic of China, Peru, Poland, Russia, Saudi Arabia, South Africa, Sudan, Thailand, and Vietnam.
The "Culinary Diplomacy: Promoting Cultural Understanding Through Food" exchange will provide an opportunity to explore the role of food in bringing people of varied backgrounds together. The participants will meet with chefs, farmers, and culinary experts across the country.
The exchange will open in Washington DC, where sessions will be held on the importance of culinary diplomacy, agriculture in the United States, and the federal system of government. The participants will spend a morning volunteering at DC Central Kitchen, as well as attend a culinary event at the U.S. Department of State hosted by the Office of the Chief of Protocol.
Participants will travel to New York to explore the role of urban initiatives for food development and learn about how collaboration among chefs, schools, and farms can bring local fresh foods to the city.
Next, participants will travel to San Francisco and Napa Valley, CA, to view culinary education in the United States and the farm-to-table movement. Participants will then split off into four groups with each group studying rural farming communities and sustainable farming practices in Freeport or Sterling, IL, and Grand Island or Omaha, NE. The delegation will reunite in Des Moines, IA, where they will attend the World Food Festival. Finally, the exchange will conclude in New Orleans, where participants will learn about cuisine specialties of the United States, food tourism, industry volunteerism, and culinary youth initiatives.
The International Visitor Leadership Program is the U.S. Department of State's premier professional exchange program.