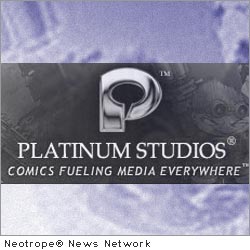 LOS ANGELES, Calif. /eNewsChannels/ — Platinum Studios, Inc. (OTCBB:PDOS / OTC:PDOS) announced today that the production company and studio is teaming up with VirtualPitchFest.com, a popular website screenwriters use to pitch their feature screenplays directly to Hollywood decision-makers.
Platinum Studios, which recently produced features "Dead of Night" and 2011 Summer blockbuster "Cowboys & Aliens," consistently seeks the freshest writers and storytellers to help adapt its international library of thousands of comic book characters into films, video games, mobile apps and other media. The company originated the concept of the Comic Book Challenge in 2006 as a means to directly connect artists and writers from all over the world to those in the entertainment business who can further their careers.
VirtualPitchFest, run by producer David Kohner Zuckerman, has earned major Industry credibility as successes include Hallmark's "Christmas Magic" and the feature, "Raspberry Magic." With VirtualPitchFest.com, query letters sent to pros must be responded to, which is a big reason for the website's popularity with screenwriters. They now have over 325 companies taking pitches online, including major studios, production companies, managers and agents.
Some of VirtualPitchFest's member-companies include Lionsgate, MGM, Warner Bros., Sony Pictures, The Gersh Agency, Alcon Entertainment, Benderspink, Davis Entertainment, Paradigm, The Donners' Company, Mandate Pictures, New Regency & APA. Platinum Studios intends to work closely with other partner entertainment companies to maximize the opportunities for collaboration.
Platinum Studios Chairman and CEO Scott Mitchell Rosenberg says, "VirtualPitchFest is the most efficient way we can think of to find, evaluate and build relationships with unknown writers and give them the opportunities they seek."
VirtualPitchFest president David Kohner Zuckerman agrees, "With heavy-hitting companies like Platinum Studios onboard, we can offer our writer clients the best chance of success in the entertainment industry."
Platinum Studios — "Comics Fueling Media EVERYWHERE!"
To learn more about the company, please visit our website:
http://www.platinumstudios.com .
Copyright © 2012 Neotrope® News Network – all rights reserved.