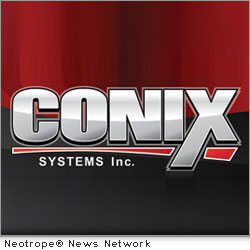 MANCHESTER, Vt. /eNewsChannels/ — CONIX Systems, Inc., a leading international provider of payment processing solutions to the financial services industry, is proud to announce that it has served financial institutions and processors since 1992. For two decades, CONIX has pioneered payment processing products that reduce system maintenance costs and improve operating reliability. Through customer-focused product innovations, CONIX has advanced the transformation of payment processing and helped usher in a new electronic payments era, including mobile banking.
CONIX is kicking off its 20th anniversary activities at BAI Payments Connect in Las Vegas, March 12 – 14, 2012 (Booth #508), where it will demonstrate Dupe Detective(R) and Fraud Detective(R). These products are the core elements of its payment anomaly detection and resolution platform, which can be implemented as a hosted solution by application service providers.
"Twenty years ago, when gasoline was close to a dollar a gallon, CONIX was founded on a vision that financial institutions' need for efficiency and accuracy in their payment processing operations was increasing," said CONIX President Mike Charles. "Like the cost of oil driving energy innovation, the demand for payment options has driven payment processing innovation. Innovation comes naturally to CONIX because our culture makes it a priority; nonetheless, we've based our innovations on real world challenges by listening closely to the industry before developing our solutions."
In 1992, CONIX developed some of the first commercially available products to support testing the frequent changes made to item processing environments. These products helped reduce both the time and cost of performing tests, while improving their accuracy. In 1998, CONIX expanded its focus to labor-intensive core operational payment processes (balancing, settlement and transit) by acquiring CheckFree Corporation's division of check processing products.
After the 2003 passage of Check 21, CONIX was first to provide working solutions addressing changes brought about by intra-bank and inter-bank check image capture and exchange. CONIX Enterprise IRD(TM) and ImageAnalyzer(TM) allowed financial institutions to adapt quickly.
In 2005, CONIX introduced Dupe Detective, the Day 1, multi-channel duplicate detection product now accepted as the de facto industry standard duplicate payment solution. CONIX's Dupe Detective customers are a "who's who" of leading financial institutions, including 6 of the top 25.
Responding to increasing payment fraud risk, CONIX developed and has continued to enhance its Fraud Detective enterprise solution for financial institutions and their payment processors. Effective against both current and emerging payment fraud schemes, Fraud Detective works in tandem with Dupe Detective to overcome challenges created by multiple payment silos. Whether installed in-house or hosted via the ASP model, the CONIX payment processing suite today enables both a unified Day 1 cross-channel review of anomalies that signal fraudulent items and their appropriate resolution.
As a hosted solution, CONIX's software offers smaller financial institutions the same protection that Top 25 financial institutions have experienced at a lower cost and without adding human resources.
Further, CONIX's integrated suite of Day 1 payment anomaly identification and decisioning solutions meet the banking industry's need for collaboration in combating fraud. The product suite enables a hosted solution for financial institutions and payment processors to aggregate payments in a shared database for duplicate and fraud detection. Multi-bank payment data sharing in a secure environment is an acknowledged model for creating a unified front line against sophisticated, persistent fraud schemes. Earlier detection along with new cooperative exchange practices will catch fraud closer to the origination point, facilitating the timely retrieval of funds.
"The last 20 years represent an era of unprecedented adaptation by financial institutions where payment processing is concerned, and CONIX emerged as a vendor-partner that could help," said Managing Director of Sales Steve Fortson. "Today, CONIX solutions enable financial institutions to compete effectively by adapting to payment innovations, such as mobile deposit and other types of mobile payments, in addition to checks, ACH, and remote deposit capture items. Nothing makes us more proud than the success of our customers," he added, "Unless it's their confidence in another 20 years of continued innovation from CONIX."
For more information about CONIX Systems, Inc. and its products, call (877) 332-1858 or email sales@conix.com. Visit CONIX online at: http://www.conix.com/ .
Copyright © 2012 Neotrope® News Network – all rights reserved.