Interviews: Chatting with Fascinating People
COLUMN: In September 2006, Peter Frampton released his first all-instrumental album, called "Fingerprints." For the project he was able to bring together not only...
INTERVIEW: Matt Forger speaks out to Scott G about everything from working with Michael Jackson to producing new artists like Mutant Radio. According to Matt, a pop song is a three minute fix of an emotional drug. We are connected through our humanity, and most successful songs speak to this.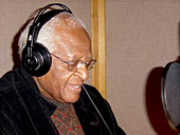 An interview with Nobel Peace Prize winner, human rights activist and world renowned author and lecturer Archbishop Desmond Tutu, who shares a few thoughts on his book "God Has a Dream: A Vision of Hope for Our Time."