Home
Tags
Women's Interest
Tag: Women's Interest
eNewsChannels NEWS: -- When Olivia Norem first heard the narration of the book, "His Viking Bride," she was so caught up in the story she nearly forgot that she is, in fact, the one who wrote it. And this marketer turned author is not the only one who found the audiobook captivating.
eNewsChannels NEWS: -- Just in time for International Women's Day, New York Times bestselling author Anna David and international lifestyle business coach Lauren Wallett are launching a talk show, "SHE-E-O," where they will get to the bottom of what makes a women-led business successful.
eNewsChannels NEWS: -- Residents Medical, a woman-owned, internationally-renowned graduate medical education organization, is excited to celebrate International Woman's Day on March 8, 2019. Agata Everest, owner, has a special passion for the recognition this day brings to women, worldwide.
eNewsChannels NEWS: -- It's time for you to own your magnificence! Debra Shine's SASSI and Michelle R. Martin's Northbay Alliance of Professional Women are sponsoring International Women's Day 2019 on Thursday, March 7 from 6-9 p.m. at the Foxtail Golf Club, 100 Golf Course Drive, Rohnert Park, CA 94928, to celebrate inspire women and commemorate women's rights!
eNewsChannels NEWS: -- Edward Johnson aka Dr. Love - that's Dr. the Real Deal Love - founder of Love University, and author of the workbook, "3 Things Every Woman Needs to Know about a Man" (ISBN: 978-1928681526) is quickly gaining credibility in the relationship industry and rapidly becoming one of the premier authorities on dating, love and romance.
eNewsChannels NEWS: -- J.S. Fletcher and Kathy Newbern, founders of YourNovel.com, are still going strong after nearly three decades of personalizing romance novels for couples far and wide. Imagine you and your Sweetheart starring in a book. How romantic. YourNovel.com offers more than 50 romantic novels to select from.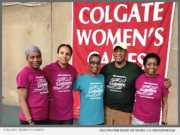 eNewsChannels NEWS: -- From an initial field of thousands, some 445 girls and young women from elementary-school-through-college and beyond, have persevered through four preliminary meets at Pratt Institute and scored points to earn a spot in the semi-finals of the nation's largest track series for women, the 45th anniversary Colgate Women's Games Track and Field Series (Jan. 5-7, 2019).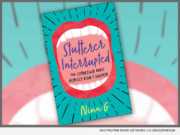 eNewsChannels NEWS: -- Stuttering Comedian, Nina G. announces the release of her second book: "Stutterer Interrupted: The Comedian Who Almost Didn't Happen" (ISBN: 978-1631526428; August 6, 2019). While childhood angst and everyday incidents offer fodder for her stand-up comedy on stage, Nina G. peels aside the punchlines to share her very personal story in her new book.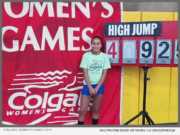 eNewsChannels NEWS: -- Thousands of athletes from all over the East Coast, from first-grade through college and beyond, competed this weekend at the third preliminary of the nation's largest women's amateur track and field series, the 2018 Colgate Women's Games (Dec. 28-30, 2018).
eNewsChannels NEWS: -- BodyLogicMD, the most highly trained network of practitioners specializing in bioidentical hormone replacement therapy and integrative medicine, has received endorsement from Leisa Hart, well-known host of the workout series "Buns, Abs and Arms of Steel."