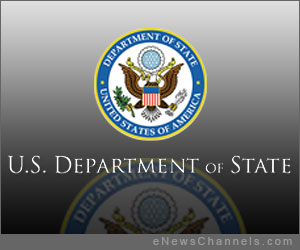 WASHINGTON, D.C. /eNewsChannels/ — NEWS: The U.S. Department of State will explore the revolutionary changes that technology has brought to education and how those changes can enhance diplomacy and development at Tech@State: EdTech on Friday, November 1, 2013. The event will be held on the campus of the George Washington University (GWU) at the Jack Morton Auditorium (Media and Public Affairs Building), located at 805 – 21st Street NW, Washington, DC 20052, from 8:45 a.m. to 5:15 p.m.
Assistant Secretary of State for Educational and Cultural Affairs, Evan Ryan, will open Tech@State: EdTech, followed by a keynote speech on Massive Open Online Courses by Coursera's president, Lila Ibrahim. The morning plenary experts' panel will discuss new tools and applications, how they are changing education, and the balance between technology and traditional learning methods. The morning session will also conclude with a series of "Ignite" presentations – fast paced five minute talks – on a variety of education technology topics.
In the afternoon, John Maeda, president of the Rhode Island School of Design, will deliver keynote remarks, followed by two breakout sessions designed for in-depth discussions with a panel of experts. Themes to be covered include: Massive Open Online Courses, Open Education Resources, Connecting Classrooms, Mobile Education, Games for Learning, the Role of Technology in Learning Languages, and Equal Access to Education for Girls, Women and Disabled Persons.
Participants include representatives from the U.S. government, international organizations, non-profit, and academic institutions. A conference event schedule and speaker biographies can be found here. Registration is free, open to the general public, and can be accessed here.
The event will also be streamed live online at http://www.livestream.com/techstate. Participants can also follow the conference live on Twitter via hashtag #TechAtState and through @eDipAtState, @StateDept, and @TechAtState.
For more information, or if you have questions related to the conference, please contact Tim Hayes at HayesTW@state.gov or 202-453-9487.