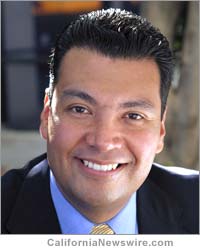 SACRAMENTO, Calif. /California Newswire/ — Today, the Calif. State Senate has approved SB 362 by Senator Alex Padilla (D-Pacoima). The bill was passed with a bipartisan vote of 30 to 7. The bill would empower the Governor and the Secretary of State to establish alternative means for emergency personnel to obtain a ballot and vote when they are responding to emergencies outside of California. The bill now moves to the Assembly for consideration.
California's public safety and emergency personnel, utility workers and volunteers are regularly deployed to assist during emergencies and natural disasters outside of California. These deployments can and do impact their ability to participate in an election.
"California's firefighters, police officers, utility workers and volunteers should not have to choose between helping others and exercising their right to vote. They should be able to do both. This bill would make that possible," said Senator Padilla.
Don Boland, Executive Director of the California Utilities Emergency Association (CUEA), which oversees California's national utility relief efforts, supports the change. "Many of our member agencies and their personnel were dispatched to help with relief efforts after Hurricane Sandy. While many of them had intended to vote at their local polling place, due to the timing and the urgency of the relief efforts, they were unable to vote," said Mr. Boland.
"This bill is about protecting the voting rights of emergency personnel who are participating in disaster relief efforts outside of California. Californians assisting those in need outside of the state, or outside the U.S., should not have to forego their right to vote. SB 362 would empower the Governor and the Secretary of State to set up alternative means for emergency workers to obtain a ballot and cast their vote when outside the state responding to emergencies," said Senator Alex Padilla.
Last year, Hurricane Sandy hit the east coast of the United States a week before Election Day. Hundreds of emergency and public safety personnel, volunteers and workers from the Los Angeles Department of Water & Power, California Red Cross, the California National Guard, Southern California Edison, San Diego Gas & Electric, Pacific Gas & Electric and the California Emergency Management Urban Search and Rescue Team, went to New York and New Jersey to help in the relief and recovery efforts. Workers who were not absentee voters were unable to vote and participate in the election. Presently, there are no provisions in state law allowing a person to vote if they are working or volunteering during a disaster outside of California.
Senator Alex Padilla, 40, graduated from MIT with a degree in Mechanical Engineering. He currently serves on the Board of MIT and is President of the National Association of Latino Elected and Appointed Officials. He is Chair of the Senate Energy, Utilities and Communications Committee and represents the more than 1,100,000 residents of the 20th State Senate District in Los Angeles. For more information about Senator Padilla visit his website ) or follow him on Facebook.
---
Copyright © 2013 California Newswire. This content is copyrighted under U.S. and international law and may only be used for non-commercial purposes by news aggregators or under license of the Neotrope® News Network (www.neotrope.net). .