ANNISTON, Ala. — The Foothills Community Partnership (FCP) officially presented a charitable contribution of $500,000 to the Community Foundation of Calhoun County at a celebration this afternoon. The gift establishes the Foothills Community Partnership Fund, which will be administered and guided by the Community Foundation of Calhoun County to address critical human-care needs in the greater community. Impact grants from the Fund will be made locally; specifically for education, community and economic development, protection of the environment, safety, and domestic violence prevention.
"This gift is of enormous importance to our community," said Wayne Carmello-Harper, president and CEO of the Community Foundation of Calhoun County.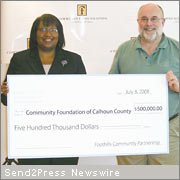 "There are so many community issues that this gift will help the Foundation to address, ranging from early learning to properly preparing children for school to encouraging the use of car seat belts and child safety seats. Career tech opportunities for our high school students are also incredibly important in order to make real employment opportunities available to them."
The Foothills Community Partnership is nearing completion of the lead investigation and cleanup program which it has facilitated during the past two years. The FCP has completed sampling of 4,125 residential properties in Anniston, Oxford and Hobson City and has completed cleanup of 510 residential properties which were deemed to be in need of remediation.
"We owe the success of this effort to the continual support we have received from members of our community," said Tom Potts, Foothills Community Partnership spokesperson.
"The Foothills Community Partnership is pleased to provide this gift to the community as a way of saying 'Thank you' as we come to the conclusion of the residential soil cleanup program. Our vision in making this substantial gift is to provide a lasting benefit to the community and to underscore our organization's tradition of community involvement," said Potts.
"This gift and others like it allow the Community Foundation to perform the real work that needs to be done for the betterment of our community. We are very appreciative of this gift from the Foothills Community Partnership," said Carmello-Harper.
The FCP is comprised of the companies responsible for the residential lead cleanup program in Anniston.
[tags]Community Foundation of Calhoun County, Foothills Community Partnership[/tags]