WHIPPANY, N.J. — Gel Smart/Pedifix has introduced the first anatomically designed All-Gel Digital Cap recommended for soothing as well as protecting fingers and toes. The All-Gel Digital Cap provides superior cushioning and protection and relief for corns, calluses, nails, cuticles, hammer toes and partially amputated digits.
The unique design of the cap provides added thickness at the distal end where extra cushioning is required, and the sidewalls are tapered while maintaining sufficient pliability and stretch for comfort in a variety of footwear styles. Additional features of the cap design, is in the engineering of a comfort vent at the distal end allowing the release of perspiration.
The gel used in the All-Gel Digital Cap is Gel Smart's soft, medical grade M-GEL, which releases vitamin-enriched mineral oil continuously on contact to soften and soothe skin. M-Gel's material is clear in color and allows discrete use in open dress shoes.
The products design does not restrict circulation, and can be recommended under the supervision of a health care provider for individuals who have diabetes or arthritis. The product can be trimmed and is available in three sizes, to accommodate most toes and fingers comfortably.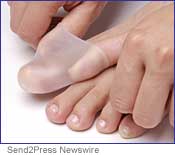 A trusted partner to a wide range of medical, consumer health care and industrial companies, Gel Smart offers for private labels extensive lines of versatile orthopedic and skin care products that continue to improve on standard designs. The company also provides unique customization and product development services, which are available to companies of all sizes in other industries as well.
Based in Whippany, New Jersey, Gel Smart has more than 20 years of experience in producing ultra soft gels using both thermoplastic elastomer (TPE) and silicone compounds. It is a recognized pioneer in developing visco-elastic products using mineral-oil TPEs and in meeting the challenges of producing consistent quality gels in Shore A-3 durometer ranges.
Working with a long-standing production partner in Taiwan, Gel Smart delivers highest-quality raw materials and products at very competitive prices. With comprehensive design capabilities ranging from gel concepts to packaging finished products to customer requirements, Gel Smart is an ideal partner to OEM and private label manufacturers in taking new ideas to market.
More information: http://www.GelSmart.net
[tags]All Gel Digital Cap, protection for partially amputated digits, Gel Smart, Poly-Gel LLC, Pedifix, medical grade M-GEL[/tags]