olorado firm first independent ever to be factory approved in the United States
FORT COLLINS, Colo. — Heli-Support, a leading helicopter maintenance, repair and overhaul facility, today announced they have been awarded full factory approval for overhaul and repair of one of the most popular helicopter engines in use today, the Turbomeca Arriel 1. The certification is without limitations, and covers the Arriel 1, 1B, 1D and 1D-1, and will soon be followed by all additional Arriel 1 variants.
"This is a very big day for our company, and our entire workforce," said Ken Roberts, president of Heli-Support. "This is a goal we've been working towards with Turbomeca for more than five years, and to see it come to fruition at last is simply terrific."
As a part of the certification requirements Heli-Support has installed a dedicated Arriel 1 test stand, workroom and spares inventory. In addition, eight engine specialists from the company have completed Turbomeca's factory training.
Two Arriel 1 engines from Heli-Support customers are now in the shop and the company is expecting more very soon. "Factory support for the Arriel 1 should quickly become a major portion of our work load" said Mr. Roberts, "and we've taken several steps to ensure we can meet the demand with the level of service and around the clock support customers have come to expect from our firm."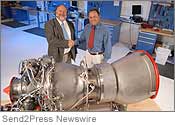 Didier Desnoyer, vice president of customer support for Turbomeca said, "We are very proud of this day, and of the team at Heli-Support. Finding the right company in the United States to entrust with factory overhaul and repair of our Arriel 1 Series has been a major corporate objective for several years, and the effort and expertise Heli-Support demonstrated made all of us here at Turbomeca more than certain we made an excellent choice."
Heli-Support's factory authorized area of coverage for Arriel 1 work includes the United States, Canada and Mexico. Turbomeca has produced more than 7,000 Arriel engines to date, and it is estimated that some 70% of them are in service within North America. The powerplant enjoys a tremendous following thanks to its reliability and ease of operation. The Arriel 1 has been especially popular in its application on board Eurocopter's AS350, AS365, EC145 and BK117 models, as well as the Agusta 109, and the Sikorsky S-76A+ Series helicopters.
About Heli-Support
Heli-Support (www.helisupport.com) was founded in 1981 by Ken and Jim Roberts and specializes in the maintenance, repair and overhaul of helicopter airframes and engines. The company is an American Eurocopter approved dynamic component overhaul facility, providing Level D maintenance for the Alouette, Lama, Puma and AS-350/355 series helicopters.
Heli-Support is also a factory approved service and repair center for the Turbomeca Artouste, Arrius, Turmo and Arriel turbine engines, and is a member of the Turbomeca Turbo Support Network. The company holds an FAA repair station license, is EASA accepted, and ISO 9001:2000 certified. Heli-Support today employs more than 70 aviation maintenance professionals at its 80,000 square foot facility in Fort Collins, Colorado.
*(PHOTO Caption:
Turbomeca Certification for Arriel 1 Awarded to Heli-Support.
Ken Roberts (left), president of Heli-Support, is congratulated by Jean Peugnet, corporate contract manager for Turbomeca, on Heli-Support's receipt of full factory certification for overhaul and repair of the popular Arriel 1 turbine engine. Heli-Support is based in Fort Collins, Colorado and provides helicopter airframe and engine support to customers worldwide.)
[tags]Heli-Support Inc, helicopter repair and overhaul facility, helicopter engines, Turbomeca Arriel 1, Ken Roberts[/tags]