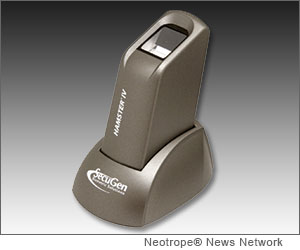 SANTA CLARA, Calif. /eNewsChannels/ — SecuGen Corporation is pleased to announce that its Hamster(TM) IV fingerprint reader has been certified by the Standardization Testing and Quality Certification (STQC) Directorate, an office of the Department of Electronics and Information Technology (DeitY) of India. This certification was obtained in cooperation with and through the determined efforts of Tutis Technology Ltd., SecuGen's longtime partner in India.
STQC certification of biometric devices is a requirement for implementing biometric authentication in India's Unique Identification (UID) project. This certification scheme provides confidence that certified devices are reliable, safe, and secure and meet the project's requirements. The goal of the UID project is to issue every Indian resident a unique identification number linked to the resident's demographic and biometric information, which they can use to identify themselves anytime, anywhere in India, and to access a host of benefits and services.
The Hamster IV, SecuGen's flagship fingerprint capture device, was previously certified by the FBI as FIPS 201/PIV compliant. The Hamster IV is rugged, accurate, and affordable, which makes it ideal for the high-volume, low-cost approach required by many of the anticipated applications enabled by the UID project. This product is available worldwide via SecuGen's network of reseller partners.
"Our engineering team and the engineers at Tutis have all worked very hard in pursuit of the STQC Certification," stated Dan Riley, SecuGen's Vice President of Engineering. "We are tireless in our efforts toward designing and manufacturing the world's best optical fingerprint reader. We believe that this is the best way for us to satisfy the needs of our partners around the world and their end-user customers. STQC Certification is the latest confirmation of this approach."
Aniket Jathar, Director of Tutis Technologies said, "We have enjoyed working with SecuGen for about twelve years now. The quality of their products as well as their responsiveness and flexibility has assisted us in promoting SecuGen products in virtually every part of India. We are very happy to have received the STQC Certification as this is now required for most Indian fingerprint procurements."
Won Lee, CEO of SecuGen added, "We are honored to have the Hamster IV receive this certification, and we are grateful to Tutis for their tireless assistance. Our goal has always been to manufacture high quality fingerprint products at affordable prices. This is in the best interest of our partners around the world and ultimately is what end-users are looking for. Obtaining STQC certification is the most recent and very welcome confirmation of this strategy."
About Tutis Technologies Ltd.:
Tutis Technologies Ltd. has been providing biometrics solutions for over 12 years and works closely with customers, software developers and various agencies to ensure world class, standards compliant solutions for very customer need. The company has provided biometric solutions for various Indian government projects that are functional for more than 10 years. Additionally the company has been working with UIDAI (Unique Identification Authority of INDIA) for biometric authentication pilot projects and proof of concept demonstrations. The recent STQC certification will help to establish the company as a dominant player in UIDAI authentication projects for years to come.
About SecuGen:
SecuGen Corporation (www.secugen.com) is the world's leading provider of advanced, optical fingerprint recognition technology, products, tools and platforms for physical and information security. SecuGen designs and develops FBI-certified fingerprint readers and OEM components, developer kits and software, including NIST/MINEX-compliant algorithms. Known for high quality, ruggedness, and performance in a wide variety of applications and environmental conditions, SecuGen products are used by world-leading financial, medical, government, educational and corporate institutions and are sold through a partner network of over 200 original equipment manufacturers, independent software vendors and system integrators around the world.
SecuGen(R) is a registered trademark of SecuGen Corp. in the United States and other countries.
SecuGen Corporation; 2065 Martin Avenue Suite 108, Santa Clara, Calif. 95050, USA. Tel 408.727.7787; Fax 408.834.7762 – http://www.secugen.com/ .
Copyright © 2012 Neotrope® News Network – all rights reserved.