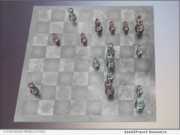 eNewsChannels NEWS: -- A Magnus Carlsen chess brilliancy that wrapped up his successful 2016 World Chess Championship match defense has been minted by Citrusw00d Productions on the OpenSea non-fungible token (NFT) marketplace.
eNewsChannels NEWS: -- Art collectors and chess lovers will soon have a chance to own high-quality depictions of historically important chess battles in the form of non-fungible tokens (NFTs) issued through Citrusw00d Productions. Citrusw00d has minted an initial pair of multimedia chess films on the OpenSea NFT marketplace that will list for sale on Saturday, Nov. 6, 2021.
eNewsChannels NEWS: -- This isn't your normal church bake sale, more like "Baked Sale." Temple420.org tries a unique membership drive method. Hoping that people would gravitate towards their message of hope in the End Times and join the organization less than 100 people subscribed to their YouTube channel. The for-profit church has yet to sell many NFTs as hoped. Now, they are trying gifting cannabis to new members.
eNewsChannels NEWS: -- "I think it is the church's job to look out for our follower's spiritual and financial well-being during this challenging time of global upheaval and Let's Go Brandon! Temple 420 shares what we sincerely think and hopefully, the lives of people who listen to us are better for it," says Temple 420 founder Craig X Rubin.
eNewsChannels NEWS: -- What do you get when you mix multidisciplined, modern artists from around the world with a cutting-edge blend of technology and art? You get Modern Art Cartel. Modern Art Cartel is at the forefront of combining art with technology and has developed the world's first AI digital artist, MysterioAI, that creates engaging NFTs (non-fungible token) or collectible digital assets.