eNewsChannels NEWS: -- Thirteen years ago, Nina G made her debut as the first stuttering female comedian. Since then, she's challenged the status quo of how people who stutter are perceived - onstage and off. So, in an industry that lacks speech diversity, Nina G's unique voice will record both her first solo comedy album and comedy special on March 9, 2023 at the Alameda Comedy Club located in her hometown. The album is projected to come out later in the spring on the Punchline Records label with the comedy special to follow.
eNewsChannels NEWS: -- Tired of being misjudged and constantly proving himself in the Black community, biracial comedian and actor, Pierre Edwards (Pierre), speaks his truth in a witty stand-up micro-special on race titled "HALF/TRUTHS." The thought-provoking film was released last week with the soft launch of Comedy Hype's new streaming platform, HypePlusTV.com.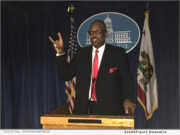 eNewsChannels NEWS: -- Steve Hill, a former Marine, retired peace officer and self-described, part-time "activist comic" known as "Satan" is running for 27th congressional district to rid the region of political corruption. He explains he chose the "Satan" moniker as a symbol of rebellion against entrenched, overly-comfortable authority.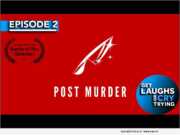 eNewsChannels NEWS: -- "Get Laughs or Cry Trying" is a fresh digital sketch comedy series, releasing original sketches on 4K HD on YouTube every Sunday through January 16, 2022, followed by HD release the next day on Instagram. The second episode, "PostMurder" premiered July 25, 2021, and is an Official Selection of The 4th Annual Battle of the Sketches.
eNewsChannels NEWS: -- What do you do when you are professionally funny for a living AND use your own experience as a person with disabilities to crush stigma and change attitudes? Well, for stuttering comedian Nina G, you take it on the road in a series of presentations that are both funny and profound.
NEWS (LOS ANGELES, Calif.) -- Uproar Entertainment is excited to announce the release of "Brown Sheep" by Tamer Kattan. Recorded in front of a live audience at The Comedy Underground in Seattle Washington this CD showcases the exceptional talent of Tamer Kattan who uses his cultural diversity to inform his unique comic views on life, society and the world today.
NEWS: (LOS ANGELES, Calif.) Uproar Entertainment is excited to announce the release of Josh Adam's first comedy CD 'LIVE FROM THE DROP.' Recorded in front of a live audience at The Drop Comedy Club in South Bend Indiana, Adams delivers a clever, laid back, in your face look at the world in which we live accented with heavy hitting jokes.