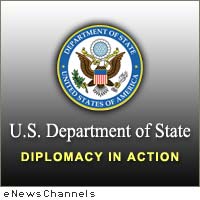 WASHINGTON, D.C. /eNewsChannels/ — The United States and the European Union will co-host an international symposium on dismantling transnational illicit networks from May 17-19, 2011 in Lisbon, Portugal. Participants will include the U.S., EU and its Member States, several countries in West Africa and the Western Hemisphere, and other international and regional organizations such as the Economic Community of West African States (ECOWAS), the Organization of American States (OAS), the Financial Action Task Force (FATF), INTERPOL, and the United Nations Office on Drugs and Crime (UNODC).
The Symposium will start an inter-regional dialogue among senior European, U.S., West African and Western Hemisphere law enforcement and judicial officials that will strengthen international cooperation to combat transnational criminal threats and illicit networks that span the Atlantic. Its focus will be on cross-border crimes and illicit routes, including drugs, arms, human smuggling/trafficking, money laundering and illicit finance, corruption and maritime crimes. It will seek to identify gaps and challenges within existing frameworks, and to develop a cooperative network and pragmatic platforms to coordinate law enforcement approaches and capacity-building assistance among committed partners.
The co-organizers are the Department of State's Bureau of International Narcotics and Law Enforcement Affairs and the EU's European External Action Service, working in close collaboration with the European Commission.