MANHATTAN, N.Y. — Thienna Inc., a skin care company that focuses on health, is sponsoring Paddy Doyle from the U.K. as he attempts several record-breaking physical strength endurance tests. The event is scheduled to be held at the famous Equinox Fitness Club on Fifth Avenue and 43rd Street near Times Square on August 16 from 11:00 a.m. to 12:00 p.m. In one hour, Doyle hopes to accomplish all of the following while carrying a 40-pound backpack: the most back of hands pushups; most step ups on a 15-inch bench; most distance on a treadmill; most height climbed on a Versa Climber machine; and most shuttle sprints.
The record breaker will have to complete the most distance and repetitions in the fastest time.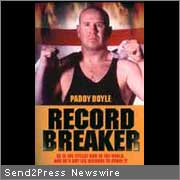 Doyle is a former amateur boxer and paratrooper. He started competing in contact sports at the age eight. His first world record was in May of 1987. It was for the most press ups in four and a half hours while carrying a 50-pound steel plate; the record was 4,100 sets.
For the past 21 years, Doyle has been competing at world record fitness endurance level. He has achieved a career total of 168 fitness endurance boxing martial arts records; 81 of those are world records.
Residents of the U.K. regard Doyle as, "the world's fittest athlete."
What's even more exciting is that Doyle's sponsor, Thienna, Inc. (www.thienna.com), is a company owned by a record breaker. In December of 2007, Dr. Thienna Ho was named the world's greatest super sumo squatter; she achieved an incredible 5,135 of these muscle-burners in just one hour.
"I am very excited to be able to sponsor Doyle and hope to watch him achieve all of these records that he is setting out to break. It is sure to be a must-see event."
[youtube:http://www.youtube.com/watch?v=C4NsCvRk4eg&hl&autoplay=1 400 326]
[tags]Dr Thienna Ho, martial arts Paddy Doyle, world record fitness endurance[/tags]