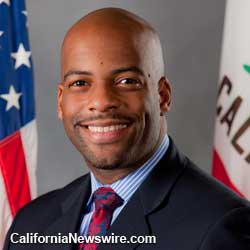 SACRAMENTO, Calif. /California Newswire/ — Building upon the work of Attorney General Kamala Harris and leaders in the mobile technology industry, Calif. Assemblymember Isadore Hall, III (D – Los Angeles) has introduced AB 257, which will establish minimum privacy protections for users of mobile applications (apps) in California.
An app is a software program that is generally downloaded directly over the Internet to a smart phone or mobile device for a range of educational or entertainment uses. Mobile apps are quickly becoming a staple of the online marketplace, with over 300,000 apps downloaded a total of over 10.9 billion times in 2010. Sales of apps, in-app purchases and app subscriptions are expected to generate $36.7 billion in revenue by 2015.
In order to often customize a user's experience, many apps collect various personal information including a user's name, physical address, email address, telephone number, physical location, a smart phone's contact list, photographs saved on a smart phone and other personal identifiable information. Depending on an app developer's privacy policy, once provided, this personal information can be sold to third party entities, increasing risks to identity theft or unauthorized access to personal, financial or medical information. The majority of mobile apps sold today do not contain a privacy policy.
Responding to this growing threat to personal privacy, Attorney General Kamala Harris worked with industry leaders and released a report in January 2013 that provides guidance on developing strong privacy practices, translating these practices into mobile-friendly policies and coordinating with the mobile industry to promote comprehensive transparency.
AB 257 builds upon the work of the Attorney General and leaders in the mobile technology industry by requiring explicit privacy protections for users of mobile apps. Specifically, this measure will require app developers to disclose their privacy policy and establish standard privacy practices for consumers purchasing apps, allow consumers to access their own personally identifiable information, establish safeguards to protect personal identifiable information and provide consumer notification if an application collects information not essential to the apps basic function.
"As a consumer, I want to know what personal information mobile app companies are collecting about me," said Assemblymember Hall. "AB 257 requires reasonable privacy protections that leaders in the industry have already agreed to and lays a foundation for app developers to continue to innovate while respecting the privacy of California consumers in the marketplace."
Sourced from: California Newswire – California Business News, Entertainment and Technology . © 2013 the Neotrope® News Network.