MONTREAL, Quebec — Donini Inc. (OTC: DNNC / DNNC.pk), announced today that Company has completed its financial restructuring and is ready to launch its 2009 expansion plans. Specifically, the Company has closed all of its unprofitable franchise agreements and has substantially reduced costs by streamlining all outsourcing relationships. Additionally, the current manufacturing facilities in place now have Hazardous Analysis and Critical Control Points (HACCP) standards, which allows for shipping to the U.S. and other countries.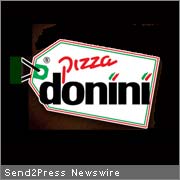 Peter Deros, President and CEO, said, "The restructuring we've done over the past several months has put us in a position to reach our corporate goals. We are very excited about our prospects for fiscal 2009 and are looking forward to providing more updates to our loyal customers and shareholders in the coming days and weeks."
The Company anticipates launching its planned expansion with the current nucleus of nine (9) Pizza Donini restaurants. These restaurants include limited seating of between 25 and 50 seats plus one (1) 120-seat, fully-licensed, Italian restaurant operating under the name "Donini Resto Bar."
Due to these operational and logistical changes geared towards enhancing financial stability, improving profitability and increasing shareholder value, the Company anticipates being able to break even by the end of calendar year 2009.
More information: http://www.pizzadonini.com .

About Donini, Inc.
Donini, Inc., a New Jersey Corporation was established in 2001 when the company acquired control, by way of a reverse merger, of Pizza Donini, a Canadian company that has been operating and licensing Italian style restaurants specializing in pizza and related products within the Greater Montreal Area in province of Quebec for over 20 years. The Company has recently completed a consolidation of its operations by establishing two Subsidiaries, Donini Group Inc. and Pizzacorp Franchises DTC Inc., whose purposes are, respectively, to hold and control the intellectual property of the Company and to license the trade marks and oversee the licensed franchisees of the marks. The Company plans to expand its operations into the United States and the rest of Canada.
Send2Press(R) is the originating wire service for this story, Copr. 2009.
[tags]Donini Resto Bar, Donini Inc[/tags]