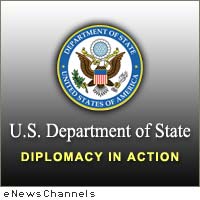 NEW YORK CITY, N.Y. /eNewsChannels/ — On June 11-12, 2012, the J. William Fulbright Foreign Scholarship Board will hold its quarterly meeting in New York City, with participation by Assistant Secretary of State for Educational and Cultural Affairs Ann Stock and other Department officials. Established by the U.S. Congress and appointed by the President of the United States, the Board sets policies and selects the participants for the Fulbright Program, the U.S. Government's renowned educational exchange program.
Since its inception in 1946, the Fulbright Program has promoted mutual understanding and peace between the people of the United States and people around the world. The Fulbright Program also seeks innovative ways to learn and teach, particularly given the rapid evolution of networks and technologies that connect people. At its quarterly meeting, the Fulbright Foreign Scholarship Board intends to explore issues related to the Fulbright Program's collaboration with partners and social media. In addition, the Fulbright Program and Board will be recognized at a reception hosted by U.S. Ambassador to the United Nations Susan Rice, and the Board will visit the 9/11 Memorial to honor the Fulbright alumni who lost their lives on September 11, 2001.
On Tuesday, June 12, the Board will host several public events in the Ford Foundation's East River Room (320 E. 43rd Street, New York, NY 10017):
§ 2:00 p.m.: Open Board meeting. Chairman Tom Healy will welcome new Members and review closed session highlights. The Board will launch its Annual Report for 2010-2011.
§ 2:30 p.m.: MTV will present on the Fulbright-mtvU Fellowship and the future of its five-year partnership with the Fulbright Program.
§ 3:00 p.m.: The Board will host Fulbright in a Connected World, a panel discussion on the program's future in social media. The panel, moderated by the State Department's Senior Advisor for Innovation in the Bureau of Educational & Cultural Affairs, Suzanne Philion, featuring panelists Tom Rielly, Fellows Director, TED; Josephine Dorado, New School / funksoup.com; Ross Hoffman, Strategic Partnerships, Twitter; and Jordan Bitterman, Senior Vice President, Digitas.