SYLMAR, Calif. — Gadget Universe, the premier innovation catalog, showcased several products at the GBK Oscar(R) Gift Suite this year. Several celebrities, including Academy Award Nominee Keith Robinson, received elegant Steinhausen watches as well as other gadgets and innovations.
The GBK event was also the debut of one of the most innovative vehicle protection devices that had many celebrities excited. The Spion Vehicle Safeguard is a simple video recording device that you can place on your dashboard or in the back of your car. It uses three AAA batteries and records onto an SD card up to 2GB, giving you 4 hours of total record time that can be easily transferred to your computer.
The best part about the Vehicle Safeguard is that it is so discrete that you hardly notice it is there. Kathy and Rick Hilton were both at the Gadget Universe booth and noticed the device. Kathy expressed the value of having such a device for their daughter, Paris, who is constantly surrounded by the media.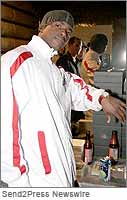 *(Photo Caption: Academy Award Nominee, Keith Robinson, tries on a Steinhausen automatic watch at the Gadget Universe booth. No celebrity endorsement is claimed nor implied.)
The GBK Oscar Suite is just the beginning to Gadget Universe's entry into the world of Hollywood. The CEO, Alexander Elnekaveh, says to be on the lookout for several of his innovations in upcoming movies and television shows.
"We have innovations to benefit every lifestyle. What better way for people to become familiarize with our wonderful innovations than to see their favorite celebrity using our great products," said Elnekaveh. Gadget Universe has posted several of those celebrity photos on their website.
Alex's Gadget Universe mail-order catalog has been around for more than 10 years and is listed with BBBOnline with an A rating. Gadget Universe offers hundreds of innovations through its 48-page monthly catalog and hundreds more online at GadgetUniverse.com.
Alexander Innovation Wizard products can be found in retail stores like Sharper Image, Costco and mail-order catalogs like Heartland America, Sportsman's Guide, and SkyMall. Alex is also rolling out dozens of funny and entertaining online videos featuring the incredible innovations he is discovering and inventing several months before these gadgets are available to consumers.
[tags]Gadget Universe, Alexander Innovation Wizard, GBK Oscar Suite, Alexander Elnekaveh[/tags]