NEW YORK, N.Y. — How to resize dynamic disk under Windows Server 2003? Or how to extend System Volume/Boot Volume without data loss when the volume is out of space? EASEUS Software, the leading hard disk management solution provider, committed to delivering high quality and affordable partition management utilities, offers its users a safe way to resize a dynamic disk.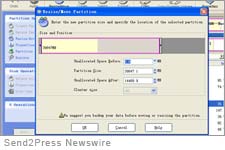 Dynamic disk support, with volumes spanning multiple disks and flexible volume reconfiguration, is welcomed by most computer users, especially server users. And it indeed offers many advantages, while the limitation of Disk Management provides that only Simple Volume and Spanned Volume can be extended, that is, the dynamic volume still cannot be extended in most conditions, especially for the system volume under PC or servers. This brings much inconvenience and frustration to users.
There isn't a direct way to resize a dynamic disk at present; alternatively, several options are available now for you to resize dynamic disk indirectly, such as convert dynamic disk to basic disk first and resize it then, which will no doubt expose all your data stored on the disk to a greater risk — so a reliable and safe way to resize dynamic disk will be the better choice.
Fortunately, EASEUS Partition Master enables you to resize a dynamic disk indirectly and safely under Windows Server 2000/2003/2008. Its built-in Dynamic Volume Copy Wizard allows users to copy dynamic volume to unallocated space on basic disk, and then resize this basic disk or perform other repartition operations with data 100 percent protected. Step-by-step instructions: http://www.partition-tool.com/easeus-partition-manager/copy-dynamic-volume.htm .
Pricing and Availability
A Web Special $159 (originally $199) for Windows Server users is available if you buy it from EASEUS' Web site at http://www.partition-tool.com/easeus-partition-manager-server/ .
20 percent discount on sales now for EASEUS Partition Master Professional Edition; available at the price of $31.96 directly from EASEUS' Web site at http://www.partition-tool.com/professional.htm .
Additionally, free for home users, EASEUS Partition Master Home Edition enjoys most features and works well under Windows 2000/XP/Vista 32 bit. Download here: http://www.partition-tool.com/personal.htm .