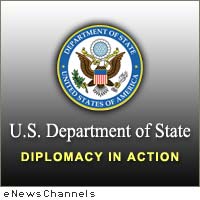 WASHINGTON, D.C. /eNewsChannels/ — On April 18, Federal Minister for Finance, Dr. Hafeez Shaikh, Deputy Secretary of State for Management and Resources Thomas Nides, National Security Staff Senior Director for International Economics David Lipton, and Assistant Secretary of the Treasury Charles Collyns convened the Working Group on Economics and Finance under the U.S.-Pakistan Strategic Dialogue to review the state of Pakistan's economy, its reform efforts and ongoing flood recovery programs.
The two sides focused on how to strengthen the foundations of the economy to expand employment opportunities and move towards self-sufficiency and away from donor dependency. The United States recognized the measures that Pakistan implemented in recent months to expand revenue collection and control this year's fiscal deficit, and encouraged the Government of Pakistan to continue efforts to strengthen the sustainability of its fiscal framework over time and to build broad consensus for these measures. Major structural reforms, including in the energy sector, remain necessary to help create the conditions for strong growth and employment creation.
Federal Minister for Finance Dr. Hafeez Shaikh updated the U.S. side on positive developments in Pakistan's economy, as the current account has benefitted from increasing exports and remittances. He presented Pakistan's growth strategy intended to enable a sustained period of increased growth. Underpinning that strategy, he indicated Pakistan plans to develop its 2011-12 budget, based on national consensus, with measures to continue progress on sustainability and encourage international investors and partners. The United States committed its continued support to Pakistan in implementation of those programs.
The United States praised Pakistan's leadership for its initiative in convening a broad ranging national "Energy Summit" to encourage dialogue among all the stakeholders. Pakistan needs to find the means to return the energy sector to financial solvency, based on consensus and action across different economic, societal and political stakeholders.
Both sides also agreed that closer consultations on assistance priorities have helped achieve greater focus in US assistance to energy, economic growth, stability, education and health as key areas for Pakistan's future development. They reviewed the status of U.S. programs to assist the recovery from last summer's floods in Pakistan. Approximately $310 million is committed to support recovery and rehabilitate small infrastructure. This includes the provision of seeds and fertilizer last fall, and plans are underway to repair roads, rebuild schools and rehabilitate irrigation control systems. Following Pakistan's refinement of its Citizen's Damage Compensation Fund program, the United States confirmed its contribution of $190 million to flood victims. Both sides stressed their intent to work to overcome obstacles to rapid implementation of those programs.
This meeting continues the sustained high-level engagement and partnership embodied in the Strategic Dialogue and underlines the joint commitment of Pakistan and the United States to work with bilateral and multilateral development partners towards stability.