OPINION: For the last two hundred million years up until 1970, our 'home' looked like this beautiful blue planet from Apollo 17 with three satellites orbiting it. Today, earth is shrouded with about 1,100 satellites, most for cell phone companies, and a half a million pieces of trashed ones, and most dangerous of all, some dumped nuclear waste. Together they are blocking the critical sunlight that Man and Nature need to happily thrive.
PHOTO Caption (above): (L-R) Earth in 1972 from Apollo 12 with 3 satellites, and in 2010 with over a thousand satellites and 1/2- million pieces of trashed ones blocking the sun needed to thrive. Credit for both: NASA. Combined image by Christopher Simmons.
In 2012, USA Today ran the story: Scientists warn NASA to deal with space junk. And in 2012 the Department of Defense issued a warning that "the amount of orbiting space junk has "reached a critical tipping point, and may result in chain-reaction collisions that could bring everyday life on Earth to a grinding halt." http://www.geek.com/articles/gadgets/pentagon-warns-of-space-junk-collisions-20100528/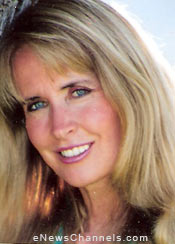 I am proud my late father Keen Chaffee built the 30 foot nose cone of America's first two stage missile for Wernher Von Braun. While dad donated his work, I am doing my part to sound the alarm on how we can quickly responsibly reduce this downside of space travel and satellite communications that now puts humanity at risk in a number of ways.
Thank heaven a Native American-European shaman showed me today's disturbing photo of Earth. I asked him if that's why our planet looks so dark. He explained the sun cannot adequately shine through all this interference, in addition to most of the billowy Nimbus clouds disappearing, which allowed intermittent shade and sun to light the planet throughout the day and bring gentle snows and rains that protect the topsoil and crops.
I asked how he learned about this. He explained, "When I recently died, I wanted to stay it felt so wonderful, but I was told to go back. As I was reentering my body I saw a strange image. I thought it was perhaps a magnified cancer cell. To my shock it turned out to be Mother Earth. After recovering I googled NASA's daily images of earth and found the same disturbing image."
In googling images of cancer cells to see if any resembled earth today, it looked most like a prostate cancer cell: http://www.alternative-cancer.net/Cell_photos.htm
Prostate cancer turned out to be the second biggest cause of early death by cancer among men worldwide next to lung cancer. Then I saw the BBC News story, Vitamin D Hope in Prostate Cancer. http://news.bbc.co.uk/2/hi/health/8017323.stm Doctors also told me I needed more Vitamin D from the sun everyday to strengthen my spongy bones and teeth.
So prostate cancer and women's osteoporosis are epidemics from sun blockage combined with toxins surrounding us in the air, water, products and pesticided foods, exposed on Dr. Sanjay Gupte's CNN "Toxic America." Those coincidences and proofs by doctors further motivated me to share this story.
THE YOUTH LIGHT THE WAY
12 yr old Xiuh (Shoe) Martinez, a World Youth leader from Boulder, Colorado also listens to the Native Elders/shamen, as do many ski communities and UN's 192 countries after their consensus in 2012, that "science combined with the Ancient wisdom through the Indigenous is critical to regenerating Mother Earth." That is why Xiuh says, "please stop trashing space and poisoning Nature to protect our dads and moms."
Founder of Earthguardian Kids (in 20 states and 100 countries), Xiuh became an international media hero for walking into the "deciders" meeting at RIO+20's Earth Summit last June, and telling them what they need to do to create a future the youth want. He went on to rally the youth and Latino vote to reelect President Obama and help him shift to renewables with his two videos that went viral.
NASA says cleaning orbital trash is expensive, but given the Defense Department's rare warning and vast profits cell companies make at the expense of our youth's birthright, our leaders and the UN must put teeth into enforcing their wisest Space Mitigation guidelines, starting with banning nuclear trash. http://orbitaldebris.jsc.nasa.gov/library/Space%20Debris%20Mitigation%20Guidelines_COPUOS.pdf
A NATURAL NUCLEAR WASTE SOLUTION BY YOUTH
Volodya, a nine-year-old who grew up in the wilds of Siberia, may have solved the nuclear waste solution: Deconcentration, like it is in Nature. See details in The New Civilization, book 8.1, of Vladimir Megre's RingingCedars.com series, read by 10 million globally, about his mom Anastasia, a Siberian mystic. She also describes green space travel through microscopic plant implosion in book 1.
Russian President Vladimir Putin, Orthodox and Muslim leaders and Pope John-Paul II openly expressed support of some of Anastasia's ideas plus about our pristine roots 10,000 years ago in the megalith time in book 8.2.
She inspired 35 million Russian families to plant organic gardens with about 300 trees, which has cleaned up their air and water and rebalanced nature's cycles so they don't have frankenstorms and the 2014 Sochi Olympics will have plenty of snow. Supplying 80% of their food supply, like our organic Victory Gardens in WWW11, they are creating a vibrant Russian generation.
BAN EXCESSIVE LIGHT POLLUTION
Anastasia describes our vital connection to the planets and stars that send energy to all earth's organisms in book 4. That is why the shaman warned that this light blockage is causing diseases in Nature and people, such as sleeping disorders.
Thanks to NASA's earth photos we also know that light pollution has increased by 40% since 1970. That inspired me in 2008 to join fellow citizens of Sedona to protect its magical starry skies, tourist draw, from Arizona's DOT wanting to install more lights on its safely lit main street.
Therefore, we can further restore nature's cycles by rallying our neighborhoods, towns or cities to cut excessive light, and require LED lights like the Big Apple and timers on lights like the E.U. By turning off lights and appliances we are together reducing trillions of tons of carbon and growing a brighter world for our children.
REVIVING OUR FORESTS
Scientists say the massive explosions and heat releases at Fukushima and Chernobyl, and gargantuan heat given off converting ore at nuclear reactors, as well as tar sands extraction, have resulted in today's unprecedented Arctic melt and wrecking our weather patterns and forests.
In Germany and elsewhere, wind, solar, bio-fuels are outstripping nukes and fossil fuels in price, speed to install, job creation, environmental impact, reliability and safety." Some schools and ski areas have produced profits their first year, like Switzerland's solar lift: Page 16 – http://naotf.org/articles/Elders-15-Green-MandatesRIO-20.pdf
While cleaning up space will help restore vital photosynthesis to our forests, the lungs of our planet, the shaman said we need a holistic approach to restore our forests and Mother Earth. The renewables help keep the soil of our forests cool to restore the healthy flora bacteria to kill the mold and fungus that have been taking over and crawling up trees and killing our forests worldwide.
BIG CHANCE TO EXTEND SNOWSPORTS BEYOND THIS CENTURY
It is also our best chance to save dying forests like Colorado's from the pine beetle epidemic. Dead trees release huge carbon and become tinderboxes for wildfires, further heating the planet. The NRDC Study found those are main contributors to why Colorado and Utah are expected to lose their snow by this century's end, the East sooner, unless there are world interventions like these.
Xiuh's film "Trust Colorado" shows their biggest wildfire in history in 2012. He pleads that we learn from these lessons and take these steps to reverse this death cycle. Produced by Peter Gabriel's organization Witness, the film edged out Xiuh's hero Redford to win the Best Environmental Short Documentary of the Year. It is now being shown in 100 cities globally. http://www.youtube.com/watch?feature=player_embedded&v=xr-GUgpic5E
Reviving forests can convert billions of tons of carbon to oxygen, avoid $120 billion frankenstorms and spend it on renewables to restore natural rain and snowfalls. Since snowmelt is also key to the drinking water and food supply of cities, we can enhance harmony and prevent costly conflicts. Internet savvy children understand all this and wonder why their parents and leaders aren't taking these logical steps to protect their own families.
17 CITIES LEAD CLIMATE CHANGE PROTESTS
That is why in February, 17 cities, including 50,000 at the White House, led by the youth, protested the tar sands extraction and its U.S. pipeline, and fracking. Xiuh led the "fun" Denver Climate Rally where hundreds dressed in black staged a human oil spill. His little bro Itz then joined him in rallying action with their positive Earth rapping lyrics.
Since the black soot from fossil fuels are carried by the trade winds and melting the Arctic icecap, protesters were joined in solidarity by over a million Earth Citizens who signed a petition to make the Arctic a Sanctuary like Antarctica, which would bans offshore oil drilling. It is led by Green Peace, Redford and Sirs McCartney and Brandson, whose British Parliament said that "one (black) oil spill under the Arctic ice and it's all over, so countries must be stewards for the sake of our children."
PREVENTING ARCTIC METHANE RELEASE
Delaying the Arctic icecap meltdown would also delay a huge methane release, discovered recently when plumes of methane – a greenhouse gas 20 times more potent than carbon dioxide – were seen bubbling in the Arctic Ocean.
WORLD'S YOUTH LEADING REFORESTATION
Since it takes 15 years for a mature tree to draw up 300-400 gallons of water from aquifers that could prevent more expected droughts, the youth urge protecting our Trees of Life.
Xiuh praised President Obama for choosing Jim Jong Kim President of the World Bank who then saved Madagascar's forests by also showing villagers (globally) ways to thrive by preserving them.
Since each year we lose several billion more trees to fires and logging than we replant, Xiuh says that each country needs to massively reforest to restore their Climate Justice, starting with planting organic fruit trees in schools and mountain communities with snow challenges from clear cutting. Xiuh's North American plan includes where to find FREE trees and assistance in the US and Canada: What World's Youth Want for Christmas – Plant our X-Mass Trees!
Here is the UN's Billion Tree reforestation plan transferred to the world's youth though Germany's Plant-for-the-Planet Foundation headed by 13 yr old Felix Finkbeiner, Xiuh's amazing friend http://www.youtube.com/watch?v=srFw46nc86M Please help them reforest!
Xiuh has 60 Congressmen, Obama's youth aids, plus young lawyers and environmentalists from 25 countries, thanks to his a keynote at Pielc.org, since it takes global teamwork to make the Arctic a Sanctuary and stop breaking of the Clean Air and Water Laws to protect our species.
Special thanks to Mt Riders Alliance, Maine's Mt. Abram, and the Ute Mt Tribe for helping make this progress possible.
Since the World's youth say the U.S. consumes the most energy, creating the most carbon, we could instead be Climate Heroes through boldly initiating these interventions. If world leaders, mainly dads, also enforced their clear air and water laws, they could be around for their kids while extending our awesome snowsports and our coastal cities for generations.
Please listen to the pleas of Xiuh, Felix and your children. With Olympic-like speed and teamwork, along with gratitude to Mother Earth, our brilliant Earth Family can Win this Race to Save the Planet and thrive. And we can sleep soundly under the stars knowing we have done our best. More info on earthguardians.org.

Article is Copr. © 2013 by Olympian Suzy Chaffee, and originally published on eNewsChannels.com – all commercial and reprint rights reserved. Contact Suzy at: Suzy Chaffee, suzynativevoices, naotf.org.
– Sponsored link; commission given to author's non-profit, NAOTF.org –