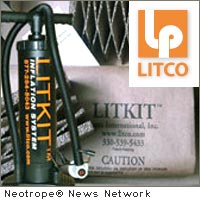 VIENNA, Ohio /eNewsChannels/ — Litco International's One Kit Fit(R) alternative to bolting a frontload or top loading washing machine drum in place during transit is now available to moving professionals through a nationwide network of distributors.
The world's only universal washing machine shipping kit, the LITKIT(R) patented system provides the best way to ensure load stabilization and prevent drum and seal damage caused by shifting in transit while moving residential and commercial grade front and top loading washing machines.
"The LITKIT provides a single, economical solution that fits and secures all major manufacturers' washing machine drums for shipment," says Al Thompson, a consultant to Litco International. "With a network of distributors, we are expanding the market for the LITKIT and can offer the convenience of service from a local distributor."
LITKIT distributors can offer same day pick up or next day delivery across North America, including Canada, Mexico, Alaska and Hawaii. Participating partners include: AE WORLDWIDE, CDS EQUIPMENT, CONTINENTAL PAPER HAWAII, PIONEER PACKAGING, ALLIED VAN LINES, NORTH AMERICAN VAN LINES, SUPPLYONE, MAYFLOWER VAN LINES, UNITED VAN LINES and VICTORY PACKAGING. A Distributor Network Directory is available at .
For years, service companies, professional movers and do-it-yourself homeowners have relied on a series of expensive drum protection kits sold by washing machine manufacturers to prevent drum damage and the tearing of rubber seals caused by shifting in transit. The bolt kits are expensive, time consuming to install and require service companies to stock a large inventory of parts to fit the many different washing machine models in the market.
The LITKIT, by comparison, offers a single One Kit Fit(R) that works with all makes and models, accommodates older machines that currently have no OEM designed stabilization kit and is reusable many times over.
That's one reason why organizations such as AE Worldwide rely on The LITKIT. "We have been utilizing The LITKIT Universal Washing Machine Shipping Kit for several years now and have found it to be an effective alternative to the bolts, braces and straps we have used in the past," says George D'Andrea, vice president of business development. "The fact that The LITKIT works with every make and model means stocking locking kits for every washing machine is a thing of the past. The time saved securing make and model of every HE front load and top load machines is a big plus."
For more information on the LITKIT distributor program, visit . Or click here to see how easy it is to install the LITKIT: .
Litco International Inc., based in Vienna, Ohio, is leading the way with cutting edge solutions for the Moving and Storage industry. LITCO is committed to developing new products that prevent damages to household goods in transit and reduce claims. LITCO products, including The LITMAT(TM), The LITSKID(TM), and The UVAC Furniture Bag, are having a positive impact on the professionals in the Moving and Storage industry. For more information, visit www.litco.com .



Copyright © 2011 Neotrope® News Network – all rights reserved.