Space News - including Astronomy, Exploration and Related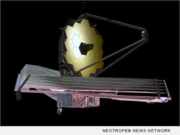 MONTREAL, Quebec, Canada /eNewsChannels/ -- NEWS: According to the Pantheory Research Organization in their recent research study, entitled 'Observations that Seem to Contradict the Big Bang Model While at the Same Time Support an Alternative Cosmology' they summarized problems associated with many present and past distant galaxy observations that seem to contradict the Big Bang model.
MONTREAL, Quebec /eNewsChannels/ -- NEWS: According to the Pantheory Research Organization, a new study of type 1a supernova data has concluded, for the first time, that dark energy probably does not exist. The paper is entitled 'An Alternative Universe-Scale Analytic Metrology and Related Cosmological Model.' The paper was published in the February 2014 issue of the journal of Applied Physics Research, by the Canadian Center of Science and Education.
LONDON, U.K. -- SentForever (www.sentforever.com) are letting people transmit free messages into deep space through their Web site to celebrate the 40th anniversary of...
SILVER SPRING, Md. -- Leaders in the Space Community will gather at the Federation of Galaxy Explorers (www.foge.org) annual Galaxy Ball at the Westin Hotel, 1400 "M" Street, N.W. Washington DC on Saturday, June 2, 2007, from 6:30pm until 11:00 pm. This year Galaxy Explorers will present awards to recognize space community leaders and the many devoted volunteers who have made Galaxy Explorers' educational programs a success.