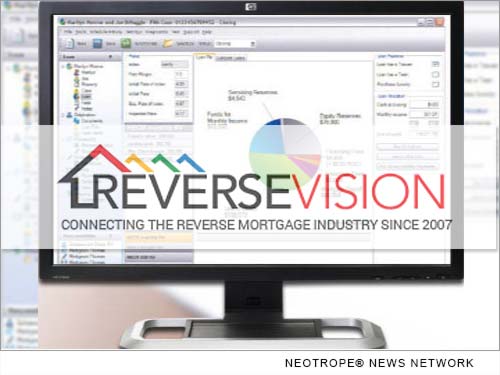 SAN DIEGO, Calif. /eNewsChannels/ — NEWS: ReverseVision, Inc. announces it will host its 2016 inaugural user conference January 20 – 22, 2016, at the Sheraton San Diego Hotel & Marina in San Diego, Calif. This event is specifically designed to increase revenue and efficiencies for RVX customers.
A leader in the mortgage industry since 2007, the ReverseVision flagship reverse mortgage loan origination system (RLOS) and marketing platform RV Exchange (RVX) has evolved significantly to incorporate changes in the HECM product over the past several years.
This event is specifically designed to increase revenue and efficiencies for RVX customers through:
* Product certifications for both sales and operations;
* Key industry panels; and
* Hot-topic sessions.
For veteran reverse mortgage lenders just as much as those new to the product, the ReverseVision User Conference content will deliver the competitive advantage these professionals need to be more successful.
Users conference space is limited so attendees are encouraged to sign up early and join your peers and meet top players in the industry at ReverseVision's User Conference.
Make the ReverseVision User Conference your opportunity to accelerate your business, register today at: http://www.reversevision.com/rv-user-con/.
About ReverseVision:
ReverseVision, Inc. – http://reversevision.com/ – is the leading software and technology provider for the reverse mortgage industry offering products and services focused exclusively on reverse mortgages. More reverse mortgages are originated monthly using ReverseVision's RV Exchange platform than all other systems combined. ReverseVision has partnered with some of the finest and fastest growing lending organizations in the U.S. to provide the leading reverse mortgage technology to brokers, correspondents, lenders and investors.
ReverseVision is recognized as a driving innovator in the reverse mortgage industry. ReverseVision continues to improve their software with frequent new innovations building on pioneering capabilities in reverse mortgage interactive graphs, scenario analysis, multi-environment performance analysis and workflow in the origination process.
Twitter: @ReverseVision
This version of news story is Copr. © 2015 eNewsChannels™ (www.enewschannels.com) and the Neotrope® News Network – all commercial and reprint rights reserved. Unauthorized reproduction in whole or in part without express permission is prohibited.