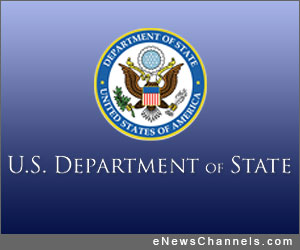 WASHINGTON, D.C. /eNewsChannels/ — Today, the United States and United Kingdom issued a joint statement regarding Global Positioning System (GPS) Intellectual Property which affirmed their commitment to ensuring that GPS civil signals remain perpetually free and openly available for users worldwide.
GPS has become an international positioning, navigation, and timing (PNT) service that has fostered innovation in the provision of many commercial goods and services, more efficient use of resources by governments and businesses worldwide, and greater economic prosperity for the globe's citizens. Finding one's destination is only one use for GPS signals. GPS is used as a timing source for most cell phone networks, synchronizing millions of calls made every day. Timing information derived from the atomic clocks on board each GPS satellite also helps cash machines operate effectively and improves efficiency in the transmission of electric current through power grids.
GPS is used in advanced farming techniques that allow farmers to plough, plant, and harvest using less fuel, fertilizer, and pesticides. GPS even allows farmers to work at night accurately and safely using tractors and other machinery specially equipped with GPS receivers.
Free and open access to GPS civil signals ensures that the costs of building and using GPS receivers stays as low as possible without the added burden that paying royalty fees or licensing fees would entail if patents and other intellectual property rights were claimed and enforced on GPS signals.
The joint statement also affirms the commitment of both the United States and United Kingdom to even deeper space cooperation across a range of civil and defense-related challenges and opportunities.
The joint statement is available here: http://www.gps.gov/policy/cooperation/#uk .