eNewsChannels NEWS: -- Chelsea Groton Bank is pleased to introduce Chelsea|LIVE Video Banking, a new digital personal experience that gives members the flexibility to bank when, where and how it's most convenient.
eNewsChannels NEWS: -- Last year, Chelsea Groton Bank and its Foundation provided more than $1 Million to non-profit organizations in our communities. The Foundation recently approved $405,820 in grants to 68 non-profit organizations from Connecticut and Rhode Island, which put the full year's giving total above the $1 Million mark for the first time ever.
eNewsChannels NEWS: -- DocMagic, Inc., the premier provider of fully-compliant loan document preparation, regulatory compliance and comprehensive eMortgage services, announced that Southeast Wisconsin-based Community State Bank has implemented its full suite of eClosing solutions to transform the bank's mortgage closing process, making it 100 percent digital.
eNewsChannels NEWS: -- Velocity Credit Union understands the importance of voting. To remind its employees that their vote is their voice and to encourage them to use it, the financial institution has announced a company-wide perk: paid time off to vote.
eNewsChannels NEWS: -- Velocity Credit Union credit card holders can now access their FICO Scores at no charge through monthly statements and online banking. FICO Scores will be refreshed on a quarterly basis and checking them will not affect credit ratings.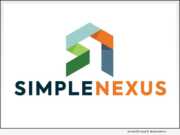 eNewsChannels NEWS: -- SimpleNexus, developer of the leading digital mortgage platform for loan officers, borrowers and real estate agents, today announced that more than 200 retail loan officers at Arvest Bank (Arvest) will soon begin offering borrowers and referral partners a more streamlined mortgage experience powered by SimpleNexus.
eNewsChannels NEWS: -- The Independent Bankers Association of Texas (IBAT) is pleased to announce that Promontory MortgagePath, LLC (PMP) has been selected as the newest IBAT Endorsed Service Provider for its ability to deliver a tailored, modern and cost-effective set of mortgage solutions.
eNewsChannels NEWS: -- LBA Ware, a leading provider of incentive compensation management (ICM) and business intelligence software solutions for the mortgage industry, today announced that Centier Bank (Centier), Indiana's largest private, family-owned bank, has implemented CompenSafe to automate incentive compensation for its residential lending department.
eNewsChannels NEWS: -- Bank of Southern California, N.A. (OTC Pink: BCAL), a community business bank headquartered in San Diego, announced today that it has funded more than $487.8 million in Paycheck Protection Program (PPP) loans. These results, as of 9:30 p.m. PDT on May 7, 2020, provided 1,940 local businesses affected by the Coronavirus (COVID-19) with critical financing to retain or restore jobs for 51,523 individuals.
eNewsChannels NEWS: -- Bank of Southern California, N.A. (OTC Pink: BCAL) today reported results for the first quarter ended March 31, 2020. Total assets increased to $852 million at March 31, 2020, up from $830 million in the prior quarter and an increase of 10.8% compared to March 31, 2019.