NEW YORK, N.Y. /eNewsChannels/ -- CheapOair launched two additions to its site, the Top 50 Destinations and the Top 25 City Pairs pages. The lists tally travel trend data on the Top 50 Destinations and Top 25 Travel Routes most searched by customers on CheapOair.com as well as the lowest fares to those cities.
NEW YORK, N.Y. /eNewsChannels/ -- The countdown is on! Ten days remain to enter CheapOair's 'Crazy in Love' video contest. In celebration of Valentine's Day, grab your sweetie, push the record button and make a 30-second video that demonstrates how crazy in love you are and what makes you unique as a couple - it could be a hobby or a special talent or anything that shows how your love for each other is distinctive.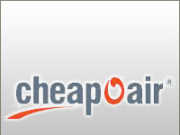 NEW YORK, N.Y. /eNewsChannels/ -- CheapOair, a top 10 online travel booking site, announces the launch of its first ever television campaign today. The 30-second ads feature the tag-line 'Get There for Less,' an expression of the company's commitment and brand promise to put quality and value first for smart shoppers who continue to demand the best of both.
MIAMI, Fla. /eNewsChannels/ -- Marriott and Renaissance Caribbean & Mexico Resorts (MARCAM) and CheapOair are playing Santa this year and delivering sand and sunshine to a holiday village near you. The two organizations have partnered for a jubilant '12 Days of Travel' holiday sweepstakes, giving away hotel stays and airfare vouchers daily via Twitter.
NEW YORK, N.Y. /eNewsChannels/ -- CheapOair's 'Like Us' Facebook contest launches Monday, November 1 in partnership with Tourism Montreal, Air Canada (TSE:AC.B) and the Montreal Marriott Chateau. From Nov. 1 to Nov. 5, 2010, savvy travelers have 5 days to enter the contest by 'liking' the Montreal Buzz and CheapOair Facebook pages.
NEW YORK, N.Y. /eNewsChannels/ -- CheapOair is the proud recipient of three of Travel Weekly's esteemed 2010 Magellan Awards. CheapOair was honored with a Gold Award in the Promotional Videos category and Silver Awards in the Booking Interface and TV Campaign categories. The Travel Weekly Magellan Awards recognize the best in the travel industry.
NEW YORK, N.Y. -- CheapOair, a top ten rated online travel agency, in partnership with South African Airways and Lonely Planet, has announced that they will hold a 10-day contest via Twitter. Starting on August 17, 2010 and ending on August 30, participants will have the opportunity to enter the contest where they can win a grand prize of airfare to South Africa.
NEW YORK, N.Y. -- CheapOair, a top ten online travel agency in North America, won the prestigious LinkShare 2010 Golden Link Publisher's Choice Award and received an Innovative Advertiser of the Year nomination. These accolades are awarded to affiliate programs that push for the implementation of new technology, promote revenue-producing campaigns, utilize unique initiatives that have facilitated new partnerships, increased sales and delivered great ROI.
NEW YORK, N.Y. -- CheapOair, a top ten rated online travel agency, is pleased to announce that several of their airline partners now offer in-flight Wi-Fi, and the Apple iPad. Today's traveler is Web savvy; often booking cheap flights online, and utilizing travel gadgets, iPhones and Blackberrys.
NEW YORK, N.Y. -- CheapOair has been serving the student travel market for years, making it easy for student travelers to search and book low airfares online for domestic and international destinations. Graduating students eager to travel to Asia and explore this alluring and exotic destination can book cheap flights to Beijing through CheapOair.