COLUMN: Generations of vibrant American girls and women, as well as those from countries worldwide, will always be grateful to Senator Ted Kennedy, a beautiful skier, sailor, football and tennis player, for being a champion of women's rights. He was pivotal in providing equality in education through Title 1X of the 1972 Education Amendments Act.
The law opened up millions of new opportunities in all educational endeavors, including sports, and therefore life. Thanks to the sporty women in his family, like sister Eunice, Special Olympics founder, he also knew that moms are key to getting American Families joyfully healthy. God bless Ted Kennedy!
— Bilie Jean King, Donna de Varona and Suzy Chaffee
BELOW:
(L-R) On the front lines of Title 1X with Sen. Ted Kennedy, were Women's Sports Foundation legends Donna de Varona, here at DC's Women in Sports Day. Photo: Women's Sport Foundation…


…along with, below, (L-R) Billie Jean King and Suzy "Chapstick" Chaffee.
L-R Photo credits: Jonathon Xley, Sunny Griffin.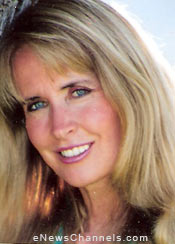 Images used with permission.