On December 19, 2014, Oregon's Mt. Ashland ski area opened after welcoming the biggest Pacific Coast storm in five years. It happened after their "First Snows Mountain Blessing" ceremony on November 23, which contributed to ending the Pacific Coast drought, which had prevented them from opening last season.
Photo Courtesy of Mt Ashland Ski Area. Prayers answered! Top of Mt Ashland on 12/12/2014
They had already been blessed with gentle snow on Thanksgiving after leaders of diverse cultures and traditions called in the snow clouds to give them and Mother Earth gratitude in beautiful songs, chants and prayers for their first blanket of snow. A Native American called in nature and ancestral spirits with his drumbeat mimicking the heartbeat of Mother Earth, which echoed again through their magnificent mountain cathedral.
Then, two weeks later, a winter storm drenched the Pacific Coast and covered Mt. Ashland with a beautiful bright blanket of powder, as shown below.
According to Mt. Ashland's Sales and Marketing Director, Jamie Schectman, "The snowfall from this storm was considerably more than had been forecasted. Higher snow levels and rain was predicted, but instead we received all snow. Our snow base is now 8-19 inches, so we are very thankful for the weather, and for the people who prayed for it."
This renowned Arts community nestled at the base Mt Ashland, the highest peak in the Siskiyous of southern Oregon, has been leading mountain blessings and snow gratitude ceremonies for the last eight years to close their season. "After last year's dry winter when the ski area couldn't even open, we feel it is especially important to honor the mountain now," said the organizer Robert Brothers, a local environmental activist.
"Snow on Mt. Ashland is not only important to the ski area, it is necessary for the health of the Ashland Watershed and the rivers downstream. We have seen clearly how a lack of snow on all of our high mountains can impact the Rogue Valley and the entire region," said General Manager Hiram Towle. "We invite each and every one to join us in the blessing."
PHOTO CAPTION: "First Snows" Mountain Blessing at Mount Ashland ski area on November 23. Clockwise from bottom left: Nancy Bloom, Naomi Kerongo, Devon Strong, Peia Jessyka Luzzi, Zahira Clement, and Larry Morningstar. Photos courtesy of Mt. Ashland Ski Area, except photo of Devon by JD Anderson of Ashland Daily Tidings. Collage by R. Brothers.
In solidarity, my chief advisor, Cherokee Grandmother Moccasin Trail (Olivia Ellis), and I were with them in spirit by phone to help our friends in Oregon, California and Washington. We sent prayers blessing this truly multi-cultural community led by "Bobcat" Brothers, to help heal Mother Earth's heart. Like Bobcat, Olivia's poetic descriptions of Nature moved me to imagining the tribal Ancestors and Nature Spirits dancing up a storm!
My white cat named "Snow" jumped on me in the middle of the prayer, so I said, "and thank you Creator for the snowmelt for the wildlife we often forget… and Mt. Ashland for hosting our blissful Shasta Tribal Youth Ski Day in 2007 with Gary Lake (my skier co-chair of Native American Olympic Team Foundation and the Shasta Nation), starting with a snow gratitude ceremony led by Skywatcher (Jim Prevatt)."
Powder Magazine's publisher John Clary Davies sent an e-mail in solidarity thanking us helping them tell the story of the Snowdances (on the stands now) and sent "Powder to the People!" I was also touched that Schectman, posted on Facebook, "I've been talking about doing a snow gratitude ceremony with Suzy Chaffee for several years. Today it finally happened and it was awesome."
So many have also been praying in solidarity for this gift from heaven that is "bringing the most rain from a single system in about 10 years in California," reported Accuweather.com. While there is unfortunate "flooding in poor drainage areas," they said that other flooding was prevented by the waters refilling empty reservoirs and replenishing water tables and aquifers. The storm also gave thirsty people, Agriculture, Nature and animals a big life-saving drink and snowsports lovers and surfers great joy.
So thank you Creator, Father Sun and Sky, Mother Earth, the Ancestral and Nature spirits, and communities for the needed moisture. I have seen for 19 years how Mother Earth is even more generous when we give Her thanks for Her priceless gifts, after a Lakota, Daniel "Rollingbears" Quintana, shared this Ancient wisdom with me in Telluride. Giving gratitude for the "gentle" snows and rains helps manifests ideal conditions.
The following thank you note that Bobcat sent Olivia and me made me realize that many of the great communities and minds of the planet, including Stanford's Nobel Prize winner Dr. Stephen Schneider, UN's Sustainability officer Maria Mercedes Sanchez, and 14 yr old World Youth leader Xiuh Martinez (see his TEDx plea to adults), are either cheering on our Native ski programs and snowdances, or we are supporting their ceremonies. Fifty years ago, JFK urged Americans to study the ancient wisdom of the tribes and heal our national wound.
Bobcat, this white bearded Harvard-Berkeley (PhD) Earth healer said, "The joy that comes with meeting a kindred soul now fills my heart. That you so perfectly understand what we are trying to do is a true blessing, one more step in the beautiful spiral that is healing Mother Earth's heart."
Other ways he is helping restore precipitation cycles is by serving on the Board of Lomakatsi Restoration Project (means Life in Balance) preserving a powerful California tribal sacred site and repairing Northern California's land, river, and trout by giving jobs to the Pit River Tribal youth. For more info, click here.
Hail to all those who are helping our great civilization and sport to go on for the benefit of all of our children, by finding many more creative ways to make skiing be sustainable and affordable.
So our Native American Olympic Team Foundation's (NAOTF) Native ski programs turn out to be a chief example of that. Plus these programs and ceremonies are a missing link to restoring naturally abundant snow cycles to the Pacific Coast. Here are the parting words to humanity from the Nobel skier, Dr. Schneider in a 2008 press story praising these Snowdances:
"Because large scale systems affect our complex weather, it is difficult to say which elements affect the precipitation outcome most, so one needs to work with all sides of the street. It would be foolish to dismiss anything that helps in this environmental crisis, especially if it costs almost nothing. I think it is wonderful that North American ski areas have been inviting tribal youth back to ski and snowboard, which inspires these snowdances. And it would be wise to further explore and expand such cross-fertilization, exemplified by the Aspen Ski Co. that unites good stewardship with Elders-led group prayers and snowdances. If it works, go for it!"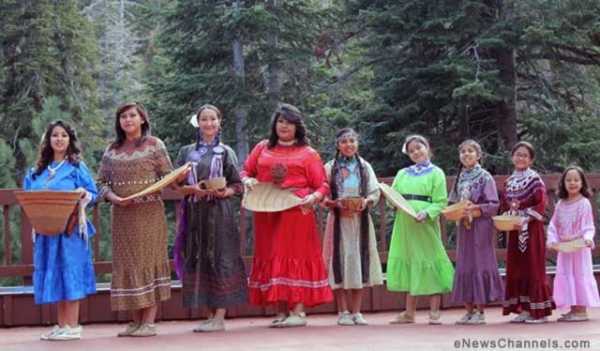 PHOTO CAPTION: Tahoe Olympians and community thanked Lois Kane and her Eagle Wings Pageant Dance Group, descendants of the dancers who saved the 1960 Olympics, during Tahoe's 2012 drought, and they again saved them with a snowdance. Photo courtesy Lois Kane, language-dance coordinator, Powder Magazine, November 2014.
Californians can be proud that America's first cross-cultural snowdance magnanimously led by Washoe, Shoshone, and Paiute dancers, saved their 1960 Squaw Valley Olympics. (Also see P. 13 of next link). As co-founder of NAOTF, I have organized or participated in and witnessed about 40 Elders-led snow miracles over 20 years. To learn more, click here and here.
We found in states like Colorado when two or more ski areas host gratitude snowdances, it creates weather systems that benefit the whole region. Plus a climatologist reported that Vail's Jan 7 2012 Snow Ceremony, led by the beloved Southern Ute Elder Eddie Box Jr., magically opened the door in their weather systems so the snow laden clouds didn't pass them by like others have. "The amazing thing is that it actually worked," said WSJ's Ben Cohen, and they enjoyed powder skiing the next day. See his Wall Street Journal video and story.
Ski areas who invite their tribal youth to share the joy of skiing in their ancestral lands are blessed with some of the highest snowfalls in their states, thanks to many giving tobacco with gratitude prayers for Mother Earth's snows each time they come.
Bobcat is exploring how to establish ongoing affordable tribal ski programs for nearby tribes. He hopes this inspires others to partner with him or NAOTF to help facilitate more Pacific Coast ski areas to become part of the healing of the land and weather through healing hearts and starting a joyful new beginning. Sipapu's NM-AZ Native Program Helping Heal America.
"The unprecedented threat of climate change is bringing us together, and the snow mountains of the world are a powerful place to focus healing," said Bobcat.

Article is Copr. © 2014 by Suzy Chaffee and originally published on Ga-Ga(com) – a publication of NEOTROPE® – all commercial and reprint rights reserved. Opinions are those of the author and may not reflect the opinion or policy of this site or its publisher. Content has not been edited in order to retain the author's unique voice. For questions about this article, contact: Suzy Chaffee, at NAOTF.org. All images were used with permission of the rights holders.