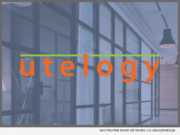 eNewsChannels NEWS: -- Utelogy, maker of enterprise software for managing, monitoring and controlling connected workspaces, expands its value further into the enterprise when users combine a Cisco Touch 10 panel with Utelogy's U-Control.
eNewsChannels NEWS: (LOS ANGELES, Calif.) -- Utelogy Corporation announced that it has joined the Cisco(R) Solution Partner Program as a Solution Partner. The Internet of Everything (IoE) continues to bring together people, processes, data and things to enhance the relevancy of network connections. As a member of the Cisco Solution Partner Program, Utelogy is able to quickly create and deploy solutions to enhance the capabilities, performance and management of the network to capture value in the IoE.
MINNEAPOLIS, Minn. -- Parallel Technologies, Inc. announced today that it has achieved Video Surveillance Authorized Technology Provider (ATP) status from Cisco(R). This designation recognizes...