NEWS: (DAYTON, Ohio) Liberty Savings Bank, FSB, a family-owned institution located in downtown Dayton, has embarked on an ambitious $870,000 project with Tipp City-based Energy Optimizers, USA, to transform the 85-year-old Liberty Tower high rise into an energy-efficient powerhouse.
DAYTON, Ohio /eNewsChannels/ -- NEWS: Varicose to Perfect, state of the art vein treatment centers with offices in Springboro and Dayton, Ohio, have been granted accreditation in Superficial Venous Treatment and Management by the Intersocietal Accreditation Commission (IAC).
DAYTON, Ohio /eNewsChannels/ -- NEWS May 7, 2013: When the Dayton area's leading industrial flooring finisher, Summit Industrial Flooring, got wind of the plan for the Heidelberg Distributing Company's move of its Dayton operations to the former Cooper Tire and Rubber Company facility in Moraine, Summit knew their expertise would be needed.
DAYTON, Ohio, April 16, 2013 (SEND2PRESS NEWSWIRE) — Always Ballroom of Dayton, Ohio is pleased to welcome Goran Nordin to their dance studio on April 18th, 2013 for a limited engagement. Always Ballroom has been Dayton's home for Traditional, Ballroom, Latin and Modern dance for over 11 years and continues to deliver high quality dance [...]
DAYTON, Ohio /eNewsChannels/ -- Eric Combs, Assistant Principal in Fairborn City Schools, will be headed to Washington D.C. this week to participate in the 'Troops to Teachers: Next Generation Planning' Conference. A retired veteran, teacher and now administrator, Eric will be asked to speak on the benefits of hiring veterans to serve in our nation's schools.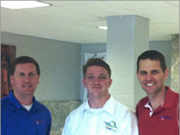 DAYTON, Ohio /eNewsChannels/ -- Matthew Sableski, Principal at Carroll Catholic High School announced that the school will be implementing energy conservation projects to reduce energy usage and cost and save money. Energy Optimizers, USA will be working with the school to develop complete turn-key energy conservation solutions.
DAYTON, Ohio /eNewsChannels/ -- Crown is pleased to announce the addition of Dave Nixon, former Executive Director at Interbrand, in an executive Client Account Lead role. 'This is an exciting move for me,' Nixon said. 'It links my digital expertise, design and consulting background with my passion for client centric service.'
DAYTON, Ohio /eNewsChannels/ -- Crown Partners is pleased to announce the addition of Pete Luongo, prior President and CEO of the Berry Company and well-known author, to its Board of Advisors.
DAYTON, Ohio /eNewsChannels/ -- On November 17, 2011 Energy Optimizers, USA was acknowledged by the Dayton Business Journal as the Rookie Business of the Year at their annual Business of the Year Awards program.
DAYTON, N.J. -- On Memorial Day GlassesUSA.com is honoring the United States military members and their families. The e-commerce leader in online optical products is offering a large discount on their prescription glasses and sunglasses for Memorial Day. The discount is aimed at offsetting the cost of prescription eyewear for military members and their families - outside of what is offered by the United States military.