Home
Tags
Food insecurity
Tag: food insecurity
eNewsChannels NEWS: -- In an historic move, on Monday November 11, 2019 Veterans Day, Golfing for Families and Dorsey Academy of Entrepreneurs will hold its fourth annual charity event in Sun Valley at Angeles National Golf course. This year's event will be hosted by Celebrity Comedian / Producer Chris Spencer and friends.
eNewsChannels NEWS: -- Move For Hunger announced today that registration is now open for the first annual Arizona Truck Pull. The event, in which teams of 5-10 will compete to see who can pull a moving truck 100 feet in the fastest time, will be hosted by Beltmann Relocation Group and the Arizona Relocation Alliance at Uncle Bear's Brewery in Gilbert on Saturday, April 13, 2019 from 2 - 6 p.m.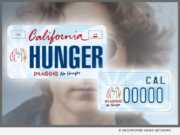 eNewsChannels NEWS: -- The California Department of Motor Vehicles has commenced the pre-sale to put the iconic self-portrait image of John Lennon on California license plates which will help fund the state's food banks. The special license plate features the famous John Lennon self-portrait image and the slogan, "IMAGINE no hunger." Proceeds from sales will be administered by the California Department of Social Services and distributed to the California Association of Food Banks to be utilized throughout the state of California for food bank programs.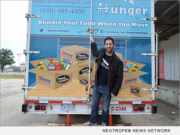 NEWS: (NEPTUNE, N.J.) Move For Hunger, a national charity, today announced that it has again been selected to receive the annual J.L. Simmons Non-Profit PR Grant for 2016. The Grant, launched in 2000 by Neotrope(R) helps worthy causes raise visibility to media and public for the charity's good works.
WASHINGTON, D.C. /eNewsChannels/ -- NEWS: Move For Hunger today announced that SuiteAmerica is the first nationwide corporate housing provider to join the only international network of relocation companies dedicated to ending hunger. Over 50 million Americans experience food insecurity. Children are especially vulnerable to hunger with 17 million American children going to bed hungry each night. One in eight District households is struggling against hunger.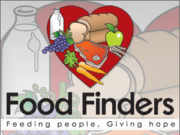 LOS ANGELES, Calif. /eNewsChannels/ -- NEWS Apr 29, 2013: Since 1989, when Food Finders, Inc. officially started rescuing food to donate to needy agencies and shelters who feed the hungry, the nonprofit has collected and redistributed 100 million pounds of food. This tremendous milestone was reached this month, coinciding with its 24 year anniversary.