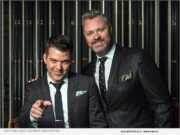 eNewsChannels NEWS: -- A global pandemic may have cancelled all of the shows, but nothing could cancel The Fabulous Equinox Orchestra's creativity and desire to make music. With a newly unexpected empty calendar, The Fabulous Equinox Orchestra focused its attention on recording.
NEWS: (SAVANNAH, Ga.) Rejuvatek Medical Inc. announces the Tatt2Away non-laser tattoo removal system is now available for the first time in the greater Savannah, Georgia area with Red Ocean Tattoo's founder Ben Kelly. The downtown location has come on board to offer to all its clientele certified tattoo removal as the first Tatt2Away Center in the state. Bringing into their high quality of service and products, the all natural system.
SAVANNAH, Ga. /eNewsChannels/ -- Savannah will see 100 new jobs by 2011, due to Dermody Properties'/DP Partners' sale of a 689,400 square-foot building in its LogistiPort Industrial Park to JLA Home for an East Coast assembly and distribution center, SEDA announced today.
SAVANNAH, Ga. /eNewsChannels/ -- The Savannah Economic Development Authority's (SEDA) Board of Directors voted unanimously today to approve the recommendation from SEDA's Succession Planning Committee to name Steven W. Weathers the Authority's next president and CEO.
SAVANNAH, Ga. -- The Succession Planning Committee of the Savannah Economic Development Authority (SEDA) Board of Directors announced on Monday the selection of Heidrick and Struggles to lead the search for SEDA's next president and CEO. The process will begin immediately and is expected to take 90 to 120 days to name the selected candidate.