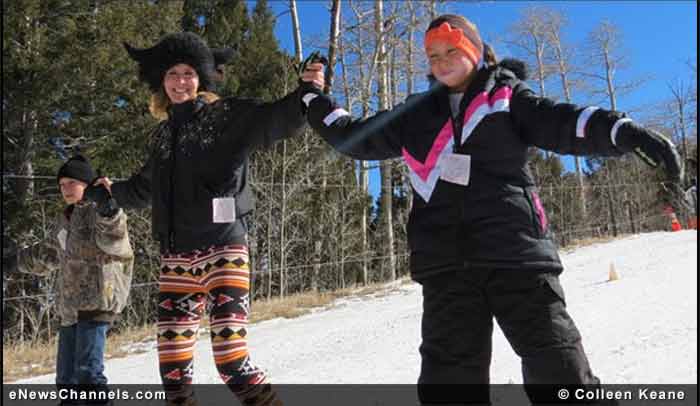 On January 4, Pajarito Mountain Ski Area, nestled near New Mexico's Bandelier Canyon Cliff Dwellings going back 11,000 years, magnanimously launched an unprecedented snowsports outreach for the tribal youth of New Mexico and Arizona. It was thanks so much to ski instructor David Vosburgh, also director of the Native Nations Sports Ambassadors program, working with our Native American Olympic Team Foundation (NAOTF.org), and local tribal leaders.
In two hours kids and chaperones of the Laguna, Acoma, Ohkey Owingeh and Pajoaque Pueblos excitedly learned the basics of how to dance down their Los Alamos Mountains from Pajarito's big-hearted instructors. Some youngsters rode the lift and joyfully zipped up and down the slopes until it closed.
SKIING FOR AN AFFORDABLE $25!
After the tribal youth at many U.S. ski areas fell in love with snowsports, thanks to getting a few days of free skiing a year, they asked for a way to ski regularly.
Featured Photo Caption (above): NM's Ohkey Owingeh/San Juan Pueblo's (l-r) Jason and Jayla Abeyta joyfully learning how to fly like eagles on skis down Pajarito Mt with Olympian Suzy "Chapstick" Chaffee. Copr. © Colleen Keane.
"So this winter our Pajarito Mt is inviting school groups of 20 to 70 (including chaperones) from New Mexico or Arizona for a special weekday learn-to-ski program that provides rental equipment, lift tickets, and two-hour lessons for $25 total, over 60% off. We include their chaperones since skiing bonds families like Suzy's and mine," said Vosburgh.
"Plus those with tribal membership IDs of New Mexico or Arizona can also purchase a full-day lift ticket, including rentals, for a flat fee of $25 on Friday to Sunday and holidays," said Tom Long, Pajarito´s General Manager. "Cultural diversity is the key to the future of skiing and cornerstone to a wonderful life," said this pioneer who also wrote the first PSIA Ski Instructors manual.
FURTHER INSPIRED BY MANDELA AND POPE FRANCIS
As a result of Pajarito's breakthrough coinciding with Manela's passing, the world saw how he so effectively used sports to heal South Africa. Added to Pope Francis urging the rich to share with the poor, more and more are opening their hearts to join this blessed U.S. and global healing phenomena.
Hail to Mammoth, Taos and Washington's Ski the Loup for pioneering this tribal outreach over 20 years ago. Then when I moved to Telluride 18 years ago, a snow miracle that saved their Christmas happened as a result of sharing the joy of skiing with TEWA-Lakota-Azteca Daniel Rollingbears Quintana with a complimentary ticket from TelSki. In appreciation he sang a prayer song on the radio. The snowblessings woke me up to start their Ute Ski program that snowballed across North America thanks also to Navajo, Zuni and Pima youngsters graciously sharing their magnificent dances and their elders sharing their priceless Ancient wisdom, including snowdances.
"That's awesome," said Loya Arum (N. Ute Elder) on hearing about the NM-AZ breakthrough. This beloved teacher reversed her diabetes blindness by falling in love with skiing at 55 while helping launch programs at eight ski areas in Colorado and Utah. Thanks to her foresight her students, along with her children who also danced in the Utah Olympic Opening and for the President of France twice, are enjoying a lifetime sport and getting great jobs instead of diabetes.
Through enlightening and facilitating U.S. ski areas to lead a healing and uniting of America through snowsports, along with the Industry (SIA) donating gear to 45 tribes, mountain communities have brilliantly invited over 10,000 Native youth back to over a million acres of their beloved ancestral mountains to share the bliss of skiing and boarding.

Photo © Colleen Keane.
PAJARITO CEREMONY GIVES GRATITUDE FOR THE "DOUBLE MIRACLE"
The lodge ceremony at Pajarito ('little bird' in Tewa-Spanish) opened with the amazingly flexible Pojoaque hoop dancers, Francesca Maetas (above) and Zynobiah Quintana, honoring Nature's 'Circle of Life.' It was thanks to their First Lady Felicia (Latin-European), whose husband Governor George Rivera, a gymnast-skier, designed their stunning Pueblo-styled Buffalo Thunder Resort, helped host us.
"The girls haven't stopped talking about David Vosburgh coaching them to ski through a slalom," said their Grandma Francis Quintana. As Pojoaque AG director she said, "We are also helping prevent diabetes by growing our (organic) food, including Cota Indian tea plus (hi C) Goji berries."
At the request of Vosburgh and Chaffee, Laguna Governor Stanley Lucero led a gratitude prayer (to Creator, Mother Earth, ancestral and Nature spirits) for the tribal-led rain blessings that protected the ski area and Los Alamos Nuclear Lab from the devastating 2011 Southwest wildfires. His skiing daughter Shayai inspired him to champion the program 10 years ago when I addressed the All Indian Pueblo Council meeting at the Santa Ana Resort. Then Joe Garcia, as President of the National Congress of American Indians and Ohkey Owingeh Governor asked for a program in 2006. Thanks to the Los Alamos community, we finally delivered, and Governor Garcia's granddaughter I Rey, with daughter Star, delivered his message at our welcoming ceremony, "Hi!"
NAVAJO AND APACHE HELPED INVENT SKIING
When their friend Austin DeHererra was wondering if skiing was for him, I mentioned that, "the Navajo and Apache helped invent skiing in the Four Corners of Asia 10,000 ago, and the fastest skier in the Americas is Cheyenne Ross Anderson at 154 mph, so you are pre-disposed to be an Olympic champion!" David Kilman, his instructor later shared that Austin then said, "'I'll give it another shot, and he did." After his friends Jason and Jaylo Abeyta told Navajo Times writer Colleen Keane that "skiing is fun and we want to come back next week," their Principal Patricia Archuleta walked up the slopes to thank David and me and said, "The Ohkeh Owingehs would love a program on Fridays." Hail to NM Native women for helping make these opportunities possible for their children.
NM´s skiing Senator Tom Udall who encouraged the program 10 years ago, hopes more ski areas will follow Taos and Pajarito, said Joshua Sanchez (Acoma)who welcomed us. Since Apache and Taos leaders say "snowsports are the No. 1 motivator of their youth," this fulfills the National Forest Service mandate "to provide opportunities for Native Americans on forestlands," and Pueblo Resorts like Pojoaque want to attract more skiers and boarders.
SPORTS AND THE ARTS KEY TO BEING PSYCHOLOGICALLY HEALTHY
Here is another priceless contribution that the Pueblos made to a harmonious world. Carl Jung, the Swiss "Father of Modern Psychology" searched the world 100 years ago looking for a psychologically healthy person and found it while living with a Pueblo Family. The critical keys include: Giving children sports or dance opportunities to get high naturally, especially out in healing Nature, Arts to express who we are, gratitude, and giving back our unique gift to the greater good. Given that some Pueblos today cannot afford PE programs, the leaders were thrilled with Pajarito's befitting affordable gesture.
NM PEOPLES' OUTREACH
Pajarito's tribal participants were treated to the great tasting healthy ZEVIA and Blue Sky colas sweetened with Stevia, donated by the Los Alamos Co-op and the La Montanita Co-op in Santa Fe and Albuquerque. The leaders and kids also loved their hot cocoa sweetened with Wholesome and NOW Foods Organic Stevia packets and appreciated how the South American tribes 1600 years ago discovered this ZERO CARB herbal sweetener. This fastest growing healthy sweetener in the US and Worldwide, according to the World Bank, is helping reduce what First Nations Cree Chief Wilton Littlechild calls "diobesity." (It's mainly from Coke and Pepsi sugar addiction – the supersize Cokes are 80 grams of sugar, while the recommended healthy limit is 15 grams a day, why these Stevia colas also at healthfood stores are life savers!)
The super fit Chief Littlechild, was a special guest for heroicly pioneering the North American Indigenous Games. This lawyer shared about a prison study where those given healthy fresh fruit and veggies substantially reduced recidivism, compared to those eating (starchy sugary) prison food. Similarly bullying and violence in the LA School District was reduced by 65% after a Mexican-American woman teacher heroicly got the sugary soda machines banned.(NPR) That is why moms now have the power to increase America's "Gross National Happiness" and put more kids in colleges than prisons! (See Indian Country Today Media story about Stevia on NAOTF.org)
Since the Co-ops, which are owned by the People who produce approx 200 natural and organic foods locally, it was a super healing gesture.
Special thanks for helping make this possible to Joy Burkham, following the work of heart of her mom, Francis Powell, with the Jemez Pueblo.
Thanks also to Sandy Limon, GM of Ski the Loup in Washington. Since the National Ski Areas Association study found that "snow would be gone from the West by the end of the century and East sooner, unless there is an intervention," he also boldly sponsored NAOTF's 2013 Snowdance Intervention Tour for the Pacific Northwest and Western regions. Besides the Loup, we orchestrated snow gratitude ceremonies and programs at Sun Valley Idaho and Snowbird Utah, along with cross-cultural ceremonies in Colorado's Telluride, Aspen, Steamboat, Sunlight and Vail. Vail and other Colorado ski area even reopened, which raised the water tables that protected their resorts and regions from droughts and fires that are putting the Rocky Mt Ski Mecca at risk. Much more healing is needed in all the regions for the sake of all our children. In unity we can and it costs nothing but Joy!
Here's a priceless gift of all the tribes: JFK was the first President to urge us to study the wisdom of the First Americans.(JFK Intro to "The American Indian") Then the late Secretary of Interior Stewart Udall told me, "There is hope for humanity since we are beginning to listen to the wisdom of Native Americans. Fortunately, in 2012, the consensus of the U.N.'s 192 countries was, "The key to regenerating Mother Earth is Green Technology and Ancient Wisdom through the Indigenous," exemplified by their priceless snow and raindances that have been saving farmers for eons, and since the 60's ski areas and the Olympics, including Squaw Valley, Utah and Vancouver. At the urging of the UN Sustainability officer to spread this Ancient Wisdom to communities worldwide, NAOTF wants by finish our documentary on "The Snowdance Phenomena." ( http://naotf.org/articles/Elders-15-Green-MandatesRIO-20.pdf )
It includes this kind of critical information I have learned from the wonderful Elders who have helped guide all this: "In living in more harmony with Nature and each other we are purifying the land and mountains of the negative energy it absorbs from fighting, explosions, pollution, and accidents. It must be released, especially around 2012, either through painful costly Frankenstorms, droughts, fires and flood cycles, OR in heart-healing ways like these joyful sports outreaches and ceremonies that give love and appreciation to Mother Earth like all our ancestors once did."
Given that today the U.S. has more fires than any other country, by more regions following the "Land of Enchantment," we are effectively slowing down the manmade part of Climate Change.
A major reason I was attracted to Telluride was the Mesa Verde and Ute Mt cliff dwellings, so it was another dream come true that Vosburgh gave our team a tour of the similarly magical Bandelier Canyon National Monument. We were invited by renowned scientist Dr. Thomas Bowles, a huge-hearted advocate for Bandelier, the Los Alamos Museum, Navajo Technical University, and our Native Nations Sports Ambassadors Program. Dr. Bowles is also a hero for being the renewable energy leader of New Mexico and given his town's history and significant need for a healing, it was perfect that we partnered with his community to bring this ski program to the area. So at the breathtaking Ceremonial Kiva at Bandelier, our team did a gratitude prayer to Mother Earth, the Pueblo people for helping inspire those rainblessings, and their ancestors watching over them. http://www.youtube.com/watch?v=GKN2cEcwxIc
Bottom line, the Pajarito breakthrough was a gift to all Creator's children. Colorado's 13 year old World Youth leader-gymnast-skier, Xiuhtezcatl Martinez, the traditional Azeteca founder of EarthGuardians. org in 100 countries, said "I am so happy that more ski areas are giving tribal youth a chance to do fun sports, since they are also helping us get Climate Justice and the World we want!"
For more information on setting up a ski program for your tribe in New Mexico or Arizona, since Pajarito Mt is only open for pre-arranged lessons mid week, or how experienced Native skiers and snowboarders can participate in clinics and certify for instructor jobs, contact David Vosburgh at http://www.skipajarito.com
Or to help facilitate a Native snowsports programs in your region, or participate in a nearby PSIA certification clinic, or contribute to accelerating this healing process in all regions and finish the documentary to help bring in a joyous New Dawn, please contact us at NAOTF.org, a 501(c)3 non-profit, or Snow-riders.org.

Article is Copr. © 2014 by Suzy Chaffee and originally published on eNewsChannels.com – all commercial and reprint rights reserved. Contact: suzynativevoices, naotf.org. Opinions are those of the author and may not reflect the opinion or policy of this site or its publisher. Content has not been edited beyond simple typo checks in order to retain the author's unique voice. READ MORE from Suzy at: https://enewschannels.com/author/suzy/ .