MINNEAPOLIS, Minn. /eNewsChannels/ -- DesignWise Medical, a nonprofit pediatric device organization, announced today that it has applied for its first patent with the United States Patent and Trademark Office (USPTO). Formal application was prepared in cooperation with the William Mitchell School of Law Intellectual Property Clinic.
WAYNE, N.J. /eNewsChannels/ -- Ballantine Corporation, a leading, full-service direct marketing production firm, announced this week that they have added a new client service to its roster - imprinted promotional products.
SAN DIEGO, Calif. /eNewsChannels/ -- Del Mar DataTrac, Inc. (DMD), the leading provider of affordable end-to-end mortgage lending automation solutions will unveil and demonstrate its upgraded point of sale (POS) solution at the October 24 - 27 Mortgage Bankers Association's (MBA) 97th Annual Conference in Atlanta. DMD's exhibit will be located at booth #307.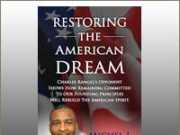 WALL, N.J. /eNewsChannels/ -- Peter Grandich, editor and publisher of the Grandich Letter, has authored the foreword in Michel Faulkner's new book 'Restoring the American Dream' (ISBN 13: 978-1-936314-30-0), which is being released nationally today. Grandich, an internationally-followed financial commentator and markets expert.
ORANGE, Calif. /eNewsChannels/ -- Comergence Insurance Services, a wholly owned subsidiary of third-party originator (TPO) risk management solutions provider Comergence Compliance Monitoring, announced it now offers fidelity and professional indemnity insurance to TPOs - the first of its kind within the industry.
ANAHEIM, Calif. /eNewsChannels/ -- RoweBots today announced the immediate availability of Unison, an ultra-tiny Linux compatible OS for Renesas Electronics RX microcontrollers. Developers now have the option for Linux-based embedded design when using RX devices. With continued broadening of its ecosystem, Renesas Electronics America continues to provide ease of adoption of RX devices.
SEATTLE, Wash. /eNewsChannels/ -- This year Space City Mixer events are bringing you the 'Ultimate Halloween Bash' Halloween Party. It is the biggest Halloween Costume Party in Seattle! Tonight, you're in control. Be anything you want to be. Tonight is the night to bring out your ultimate costume.
NEW YORK, N.Y. /eNewsChannels/ -- Less than 3% of executive job seekers are prepared for negotiating, maintains Robert J. Gerberg Jr., CEO of SET, a personal marketing firm working with executives, professionals and managers seeking $100,000 or more.
CHICAGO, Ill. /eNewsChannels/ -- KnowledgeAdvisors, the world's largest provider of learning and talent measurement solutions, is the proud recipient of the Bronze Award for the CLO Excellence in Customer Service category.
CHICAGO, Ill. /eNewsChannels/ -- All City Sportz Corp., a brand new Chicago-based adult recreational sports group, is announcing their grand opening with the launch of Men's pick-up basketball. This highly organized program allows individuals the opportunity to stay in shape while enjoying basketball without season commitments and provides a flexible play-as-you-pay registration process.