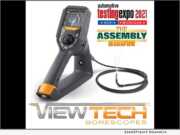 eNewsChannels NEWS: -- Ending a month filled with the return of many conferences and expos, ViewTech Borescopes will be appearing at The ASSEMBLY Show and Automotive Testing Expo, both taking place October 26, 27, and 28, 2021. As many engineers in the automotive and manufacturing industries rely on remote visual inspections to support quality control, ViewTech's line of borescopes save companies time and money, while avoiding costly teardown or downtime.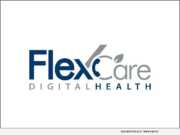 eNewsChannels NEWS: -- With more than 3,000 entries from around the globe, The Academy of Interactive and Visual Arts just announced the winners of its 16th Annual w3 Awards. FlexCare Digital Health, a leading provider of online and on-demand healthcare delivery, brought home a total of four awards and was recognized in the Mobile Apps and Mobile Features' categories.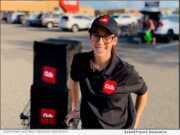 eNewsChannels NEWS: -- CUB and Capstone Logistics are collaborating to bring grocery and liquor deliveries to Minnesota residents. Capstone is currently deploying 300 independent contractors to 80 grocery stores and 27 wine and liquor stores.
eNewsChannels NEWS: -- After, Inc., the global leader in Warranty Services since 2005, just announced that Dawn Taylor will be joining the company as Chief Revenue Officer. Dawn brings more than 27 years of warranty and service contract experience, serving as President of Centricity for the last 9 years. Her background and experience will be instrumental in leading the expansion of After, Inc.'s Warranty Services business, and its newly launched QuickSuite Platform.
eNewsChannels NEWS: -- Fanplayr, a leader in SaaS and online behavioral personalization, announced the hiring of Jack Hallahan as Vice President of Sales for the U.S.; David Ticconi as Managing Director for Australia and New Zealand; and promoted Mariano Tripiciano to Managing Director of the Americas.
eNewsChannels NEWS: -- HomeBinder, a centralized home management platform that keeps homeowners connected with mortgage lenders, home inspectors, insurance providers, home pros, real estate agents, and other authorized professionals, today announced the release of new features and user interface (UI) improvements designed to enhance the home management experience.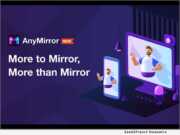 eNewsChannels NEWS: -- iMobie Inc., an innovator dedicated to enhancing software technology in the consideration of users' convenience in digital life for more than 10 years, released a fantastic mirroring application - AnyMirror. This tool enables users to mirror Android & iOS screens, audio, cameras, and microphones and stream as many devices simultaneously with different content as they need.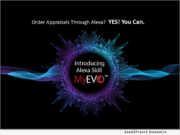 eNewsChannels NEWS: -- Global DMS, the leading provider of cloud-based real estate appraisal management software, recently announced that its next-generation EVO platform is now voice-enabled, providing lenders access to key functionality and up to the minute information of their entire pipeline with Amazon's Alexa voice control - making EVO the first and only appraisal management software to provide this capability in the mortgage industry.
eNewsChannels NEWS: -- FormFree® today announced it has selected Amazon Web Services, Inc. (AWS) to power FormFree's consumer Financial DNA® solutions for the lender market. FormFree will leverage leading AWS technologies such as Amazon Managed Blockchain to create a scalable Hyperledger Fabric network.
eNewsChannels NEWS: -- SimpleNexus, developer of the leading homeownership platform for loan officers, borrowers, real estate agents and settlement agents, today announced its acquisition of Macon, Georgia-based software firm LBA Ware™. The strategic transaction, SimpleNexus' first, brings together 325 employees in 29 states to serve 425 distinct lender customers and dozens of mortgage technology integration partners.