Home
Tags
ViewTech Borescopes
Tag: ViewTech Borescopes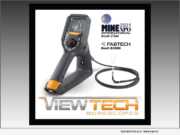 eNewsChannels NEWS: -- As two of the largest trade shows in the United States return after COVID-19 forced a hiatus, ViewTech Borescopes will be one of the thousands of exhibitors featuring the latest machinery and technology next week during FABTECH and MINExpo International. FABTECH 2021 will be taking place at the McCormick Place in Chicago September 13-16, while MINExpo International is being held at the Las Vegas Convention Center September 13-15.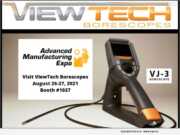 eNewsChannels NEWS: -- ViewTech Borescopes will be exhibiting for the first time at the Advanced Manufacturing Expo on August 26 and 27, which is being held at DeVos Place in Grand Rapids, Michigan. Three different halls, metalworking, mechanical, and automation & manufacturing services, will feature more than 200 vendors and the latest manufacturing technology and equipment.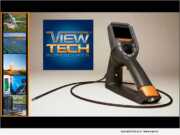 eNewsChannels NEWS: -- As the clean energy revolution continues a path of rapid growth, R&D, along with manufacturing of new green technologies, requires thorough nondestructive testing. With many prototypes and advancements of current components adhering to clean energy standards, ViewTech Borescopes has witnessed an expansion of clients that use a ViewTech VJ-3 video borescope for inspecting a variety of clean energy options.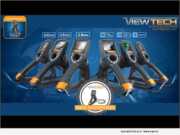 eNewsChannels NEWS: -- As companies and industries encounter a new or one-off inspection, it is not always a viable option to purchase a high-quality borescope. ViewTech Borescopes not only provides an array of articulating video borescopes for sale, but every inspection video borescope is available for short or long-term rental periods at a fraction of the cost.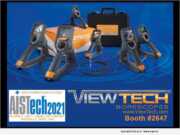 eNewsChannels NEWS: -- ViewTech Borescopes will exhibit for the fifth time at the annual Association for Iron & Steel Technology Conference and Exposition. AISTech 2021 will be taking place June 29 through July 1 and is located at the Music City Center in Nashville, Tennessee.
eNewsChannels NEWS: -- Since their VJ video borescope hit the market in 2008, ViewTech Borescopes mechanical articulating video borescopes have been widely used throughout a variety of inspection applications, including those that are considered explosive environments. When redesigning their 3rd generation inspection borescope, it was critical to have the newest borescope tested for MIL-STD-810G certification.
eNewsChannels NEWS: -- With thousands of ViewTech Borescopes clients relying on a VJ-3 video borescope for routine inspections and maintenance, word-of-mouth referrals contributed to ViewTech's record unit volume sales during April business.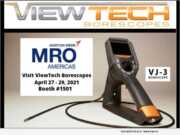 eNewsChannels NEWS: -- ViewTech Borescopes announced they are returning to exhibit for the ninth time during MRO Americas 2021 and will be located at booth #1501. With MRO Americas live event being held at the Orange County Convention Center in Orlando, Florida from April 27-29, this year's in-person event will be co-located with the Military Aviation Logistics & Maintenance Symposium (MALMS).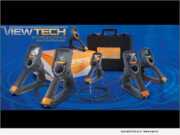 eNewsChannels NEWS: -- With thousands of companies utilizing ViewTech VJ-3 video borescopes, it is a common occurrence that inspectors share tips and their tools of the trade with each other. Many of the times these tools are the suppliers and manufacturers who provide a quality product and superior customer service.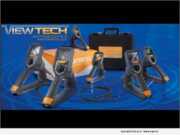 eNewsChannels NEWS: -- Whether an inspection application requires a small diameter borescope to enter a narrow access port or one that can articulate as it navigates through lengthy piping, ViewTech Borescopes VJ-3 video borescopes are utilized and relied upon throughout every industry.