Home
Tags
ViewTech Borescopes
Tag: ViewTech Borescopes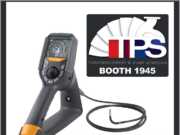 eNewsChannels NEWS: -- To conclude their full trade show schedule in 2021, ViewTech Borescopes will be connecting with Turbomachinery & Pump Symposia (TPS) attendees at the George R. Brown Convention Center in Houston, Texas this week.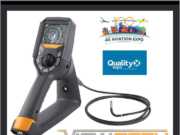 eNewsChannels NEWS: -- To kick off the final month of the calendar year, ViewTech Borescopes will have their remote visual inspection tools available to trial at the NAAA Ag Aviation Expo and Advanced Manufacturing East, both scheduled to begin this week.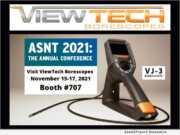 eNewsChannels NEWS: -- For the ninth consecutive year, ViewTech Borescopes continues to exhibit their line of video borescopes at The American Society for Nondestructive Testing (ASNT) Annual Conference. With the 2021 ASNT Annual Conference taking place in Phoenix, Arizona at the Phoenix Convention Center, ViewTech will be exhibiting at booth 707 from November 15 - 17, 2021.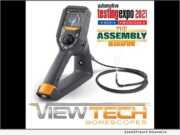 eNewsChannels NEWS: -- Ending a month filled with the return of many conferences and expos, ViewTech Borescopes will be appearing at The ASSEMBLY Show and Automotive Testing Expo, both taking place October 26, 27, and 28, 2021. As many engineers in the automotive and manufacturing industries rely on remote visual inspections to support quality control, ViewTech's line of borescopes save companies time and money, while avoiding costly teardown or downtime.
eNewsChannels NEWS: -- Continuing a busy month of exhibiting across the United States, ViewTech Borescopes is set to network with attendees as they convene at key industry conferences. Experience Power, INTERPHEX, and the Reliable Plant Conference & Exhibition all taking place next week.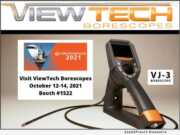 eNewsChannels NEWS: -- After a year away from a face-to-face NBAA BACE, ViewTech Borescopes is eager to be one of over 700 exhibitors as the aviation community reunites. ViewTech Senior Sales Consultant, Zach Wessels, a "2021 AMT 40 Under 40 Maintenance Professional Award" recipient, is ready to reconnect and network during the 3-day National Business Aviation Association event.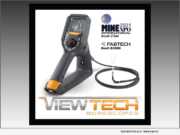 eNewsChannels NEWS: -- As two of the largest trade shows in the United States return after COVID-19 forced a hiatus, ViewTech Borescopes will be one of the thousands of exhibitors featuring the latest machinery and technology next week during FABTECH and MINExpo International. FABTECH 2021 will be taking place at the McCormick Place in Chicago September 13-16, while MINExpo International is being held at the Las Vegas Convention Center September 13-15.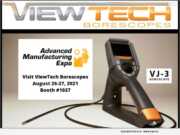 eNewsChannels NEWS: -- ViewTech Borescopes will be exhibiting for the first time at the Advanced Manufacturing Expo on August 26 and 27, which is being held at DeVos Place in Grand Rapids, Michigan. Three different halls, metalworking, mechanical, and automation & manufacturing services, will feature more than 200 vendors and the latest manufacturing technology and equipment.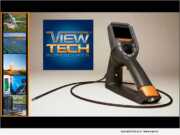 eNewsChannels NEWS: -- As the clean energy revolution continues a path of rapid growth, R&D, along with manufacturing of new green technologies, requires thorough nondestructive testing. With many prototypes and advancements of current components adhering to clean energy standards, ViewTech Borescopes has witnessed an expansion of clients that use a ViewTech VJ-3 video borescope for inspecting a variety of clean energy options.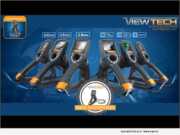 eNewsChannels NEWS: -- As companies and industries encounter a new or one-off inspection, it is not always a viable option to purchase a high-quality borescope. ViewTech Borescopes not only provides an array of articulating video borescopes for sale, but every inspection video borescope is available for short or long-term rental periods at a fraction of the cost.