WASHINGTON, D.C. /eNewsChannels/ — The Governments of the United States of America and the Argentine Republic will hold the first bilateral Joint Committee Meeting (JCM) on Science and Technology Cooperation at the National Academy of Exact, Physical and Natural Science in Buenos Aires on September 2-3, 2010. Deputy Assistant Secretary of State for Science, Space and Health Lawrence Gumbiner from the Bureau of Oceans and International Environmental and Scientific Affairs will lead the U.S. delegation and Secretary Alejandro Ceccato from the Ministry of Scientific and Technological Coordination will head the Argentine delegation.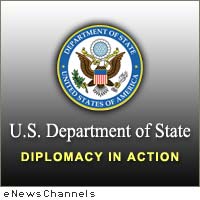 U.S. and Argentine participants will affirm the significant role science and technology plays to enhance and complement each country's political, economic and commercial infrastructure. Delegates will discuss potential collaborative activities that will enhance the development of professional and scientific networks, build capacity, strengthen institutional links, expand joint research, advance science knowledge and technology for innovation, and seek collaborative opportunities for civil safety and global security.
In particular, participants will examine scientific and technological cooperative activities currently underway between the two countries' agencies, research centers, and academic institutions in the fields of innovation, basic science and astronomy, climate change, energy, earth science, forensic science, agriculture and food safety, and health. Delegates will explore several priority areas where bilateral collaboration could be further advanced including nanotechnology, atmospheric and space research, alternative energy research, and biotechnology.
The Joint Commission Meetings follow Secretary of State Hillary Rodham Clinton and Foreign Minister Héctor Timerman's bilateral discussions in Washington, DC, last month. The meetings will take place under the auspices of the Agreement related to Scientific and Technical Cooperation between the Government of the United States and the Government of the Argentine Republic, which was signed on April 7, 1972, and entered into force on April 11, 1972. The Joint Commission Meetings will include delegates representing ministries, technical agencies, and academic institutions from both countries related to science and technology.
For more information on the U.S.-Argentina Joint Committee Meeting on Science and Technology Cooperation, please visit: .