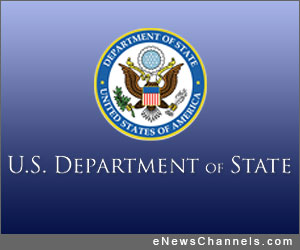 WASHINGTON, D.C. /eNewsChannels/ — The U.S. Department of State will host a conference focusing on how technology has impacted elections and the electoral process at the Tech@State: ElecTech Conference on November 30 to December 1, 2012. The event will be held at two separate locations.
On Friday, November 30, the conference will convene on the campus of George Washington University (GWU), at the Jack Morton Auditorium (Media and Public Affairs Building), located at 805 – 21st Street NW, Washington, DC 20052 from 8:45 a.m. – 5:00 p.m. The second day's event will be on Saturday, December 1 from 9:00 a.m. – 4:00 p.m. The conference will be held at the National Democratic Institute, located at 455 Massachusetts Ave., NW, 8th Floor, Washington, DC 20001.
On the first day, opening remarks will be delivered by GWU Law Professor Spencer Overton and Deputy Assistant Secretary for Democracy, Human Rights, and Labor (DRL), Daniel Baer. The keynote address will be delivered by Missouri's Secretary of State, Robin Carnahan, followed by sessions on the role of technology on elections both domestically and internationally. The second day will be an all-day "unconference," at which attendees will generate their own agenda based on the interests and expertise of the crowd.
Participants and conference leaders include representatives from the U.S. government, U.S. presidential campaigns, social media companies, international non-governmental organizations, non-profit, and academic institutions. A conference event schedule and speaker biographies can be found at http://tech.state.gov/profiles/blogs/tech-state-electech. Registration is free, open to the general public, and can be accessed through http://techatstate-electech.eventbrite.com/#. The event will be streamed live online at http://www.livestream.com/techstate. Participants can also follow the conference live on Twitter via hashtag #TechAtState and through @eDipAtState, @StateDept, and @TechAtState.